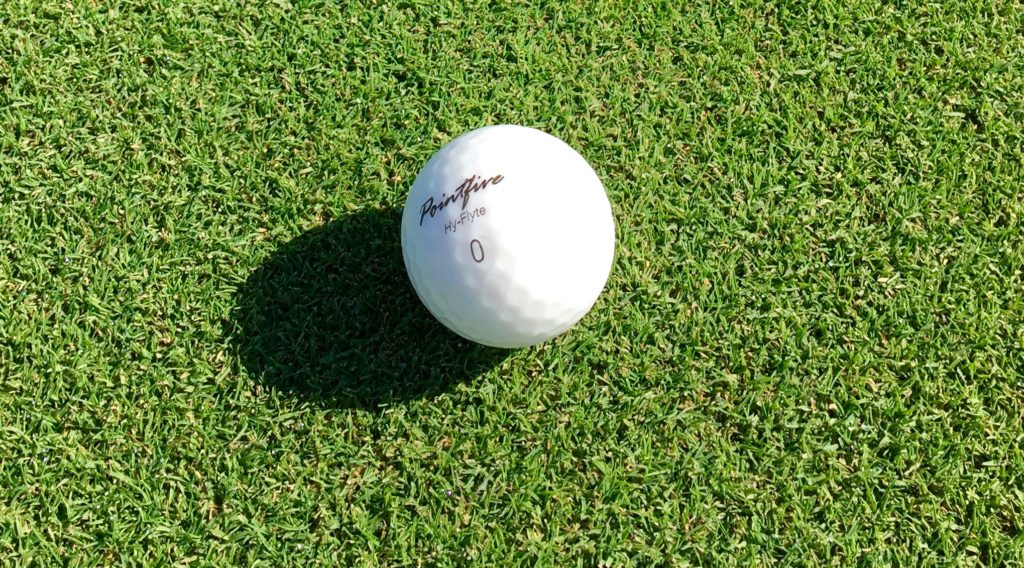 The time it takes to play a round of golf these days is borderline ridiculous. In many cases, five hours is the norm (sometimes 6) and that just doesn't fit into the 21st-century lifestyle. But one company, Pointfive is trying to help. You see Pointfive has concluded that in order to speed-up play, you should play a shorter-length golf course.
Recently, I've written about playing a 12-hole course to help hasten your round. But Pointfive is referring to golf courses of more the "par 3" or "executive" variety. Unfortunately, the thought of an executive-style course doesn't really appeal to me. And if I had to guess, it doesn't really appeal to many others either.
One major issue with these types of courses is you can't hit all your clubs – especially your driver. Limiting the number of clubs you can use tends to diminish the game for many golfers – myself included. But this is where Pointfive comes to the rescue.
Pointfive manufactures limited distance golf balls. In fact, these balls travel just 60 percent of what normal balls travel. That may not sound like much, but on an executive-style golf course, it brings your entire bag of clubs back into play.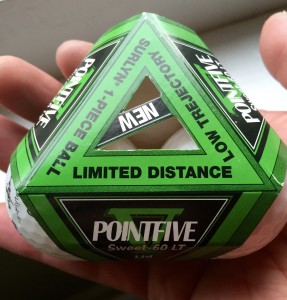 The good folks at Pointfive sent me two free sleeves of their Hy-Flyte golf balls and I put them to the test this past weekend on a local executive 9. Now these are 1-piece balls that actually float, so they are a bit lighter than your typical golf balls. As such, my first inclination was to test them on the putting green, but I noticed no notable difference – their roll and lag was like that of normal balls.
Moving on, the first hole was a 100-yard par 3 – a distance where I would typically hit my 56-degree wedge (sand wedge). But with the Hy-Flyte ball, I hit my 7-iron and was nearly pin-high.  My 7-iron averages around 160 yards, so in this case, the 60 percent distance of these balls is fairly accurate.
There were also a few holes on this course around 300-yards long. In each case, I hit driver off the tee and landed around 110-yards from the center of the green. This would put my driving distance at around 155 yards (normally I'm about 260 with the big dog). Again, this holds true to the 60 percent distance of these balls. In addition, the flight pattern and trajectory seemed mostly on par with what I would expect to see.
By the end of my round, I knew these golf balls would entice me to play more executive-style courses in the future. The Hy-Flyte balls truly gave me back my entire set of clubs on a course where that normally wouldn't be the case. What's more, I felt satisfied despite finishing in just under 2 hours flat (even with a wait on most tee-boxes).
Admittedly, it was a bit strange hitting a 7-iron from around 100 yards out – at least initially anyway. And if you are a newbie where most tee-shots are flubs, it might be best to play regular balls – after all, you need all the distance you can get!
But for those in search of a quicker round, yet reluctant to play a par 3 or executive-style golf course, these balls just might be the solution.
What's interesting is Pointfive also highlights the economic and environmental impact of their golf ball. On their website, the company points-out that with increased popularity of their ball, there will be demand for a new generation of golf course. One that is 60 percent scale and "requires minimal water and chemical usage; are much more affordable to build, maintain and play; and require only 40-70 acres of land."
Can one ball drive the golf industry to thinking on a smaller-scale? It might be a stretch, but I believe everyone understands the game needs to get quicker, cheaper and more environmentally friendly. Let's face it, the majority of us are recreational golfers and we are certainly looking for quicker and cheaper rounds. Hey, crazier things have been proposed (giant holes anyone)…
For the here and now, Pointfive's Hy-Flyte golf ball will allow you to play shorter-length courses with a full-length course experience. Your options for golf on a tight schedule just got a whole lot better. And for me, that's innovation enough.