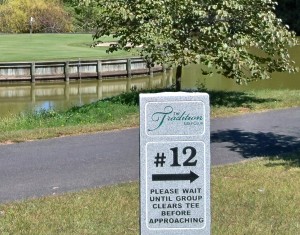 A 12-hole golf course? Yep, they do indeed exist. And more might be on the way. Jack Nicklaus originally proposed 12-hole courses back in 2007, but he was largely ignored.
He brought it up again in 2011 as a way to save golf, which he pointed-out was struggling to engage the younger generation. This time, he wasn't ignored, but rather criticized. You see, Mr. Nicklaus had recently built a 12-hole golf course and many accused him of just trying to boost his business.
But over the past few years, the golf industry has indeed grappled with ways to attract Millennials. And it's no secret the game loses participation (from both potential and current golfers alike) because it takes far too long to complete a round – in some cases pushing towards 6-hours for 18-holes (especially on public tracks).
To combat this, the USGA launched a dedicated initiative to encourage more 9-hole rounds (our friend Stacy over at Golf for Beginners touched on this last week). But let's face it, as long as it takes to play 18-holes, playing only 9 just doesn't seem like enough. I guess those of us on a time-crunch could frequent more par 3 or executive courses, but shortening the length of the holes and subsequently not being able to hit your driver? To me, that really changes the game.
Ideally, what golf needs is a course with less-than-18, but more than 9 full-sized holes – including par 5's. Thus the 12-hole (or even 14-hole) golf course might be just right. First off, greens fees would come down since there's less course to maintain. And with less holes, walking courses would become more prevalent too. How many times have you become fatigued over the last few holes while walking 18? Well, that won't be an issue if you're only playing 12.
And it stands to reason if you cut the number of holes by a third, it should take only two-thirds of the time to complete a round. So if it typically takes you 5 hours to play 18-holes, it should take just under 3.5 hours to play 12. This is a much more manageable timeframe and it fits much better into a busy weekend schedule. And if you only have 90 minutes or so, just play the front (or back) 6!
But what about the handicap system on a course with less than 18-holes? Well, that can be adjusted fairly easily according to the USGA, which has stated they "would consider rating 12-hole courses in the near future."
So what's the issue?
It appears the biggest hurdle is the mindset of current golfers and golf course managers. "But par is only 48!" We golfers have a hard-time considering anything but the traditional 18-holes. In my opinion, it's this kind of stubbornness that is holding the game back. We need to be reminded that 18-holes is a relatively recent (last century or so) standard number of holes a course has. In the past, courses have featured 5, 7, 12 and even 22 holes!
And likewise, you can put golf course managers in the same boat. When a course is about to fold, most managers don't even consider selling-off acreage and creating a 12-hole (or even 9-hole) layout. They simply take the loss and close their doors.
Yet on the whole, it appears 12-hole courses would be good for golf – not only helping the industry economically, but also helping with participation from new and current golfers alike. Now if we can only get folks to start thinking outside the box, we might just be able to make golf a better game for everyone.
Feel free to throw in your two cents in the comments – I would love to hear your opinion, either for or against a 12-hole golf course.