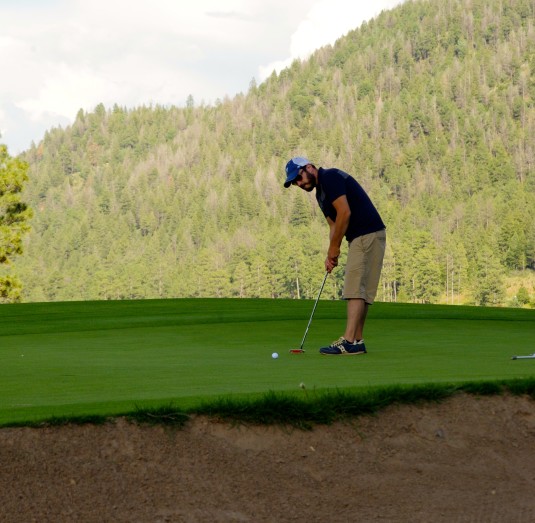 About Stinky Golfer Greg
Greg D'Andrea is co-founder of GolfStinks, LLC. He's played hundreds of different golf courses (including all the public 18-hole courses in his home state of Connecticut) and has written reviews for nearly all of them. Besides being a golfer and blogger, Greg works as a public relations measurement consultant and is happily married with two children.
Quotable…
"The idea for a site like GolfStinks came to me one day when I realized the vast majority of golfers are, like me, pretty wretched at this game…I wanted a place where you could appreciate golf, but still be cool with the fact that you stink at it."
Greg's a regular contributor to the GolfStinks blog and here's some of his latest work…
Greg's Recent Posts:

Q&A with Stinky Golfer Greg…
Years Stinking at Golf: 25 (wow, I'm getting old)!

Average # of Rounds per Year: 10 (it used to be a lot more before kids)!
Golf Equipment: Mizuno: MX-23 Irons, MP wedges & FLI-HI 3 hybrid / Taylor Made: 2009 Burner Driver
Golf Balls Lost in an Average 18 Hole Round: Usually between 1-3
Favorite Course Played:
Paa-ko Ridge Golf Club
Dream Foursome:
Me, Ben Hogan (so I can learn something), any of my current golfing buddies and Bigfoot (seriously, a guy in a Bigfoot costume…or the real thing, whatever).
Most Interesting Golf Experience:
I was down on Hilton Head Island, SC in the spring of 2001 boogie-boarding in the surf just after a round of golf, when I was stung on the hand by a stingray. I didn't really know what hit me until 5 hours later, when the pain wasn't going away, my buddies took me to the emergency room and the ER nurse told me what happened: "Yep, that was a stingy" she said. I had to soak my hand in scalding water for the next two nights (please don't try to ice-it like I did), get a tetanus shot and take antibiotics for 15 days. Good thing it stung me on the top of the hand, otherwise I'd have never been able play the next 36 holes!
---
GolfStinks contributors: Stinky Golfers Chris, Greg, Pete & Tom