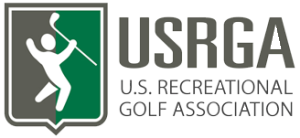 Last month, I wrote about the 3 Reasons Recreational Golfers Need Their Own Rulebook. In summary of that post, a rulebook specifically geared towards the average golfer would help attract new players to the game; alleviate slow play; and wouldn't be focused on ranking the best golfers in the world (which is one of the USGA's primary missions).
Since the USGA seems reluctant to create separate rules for recreational players (which might be for the best), I scoured the web to see if such rules existed elsewhere. Much to my delight, I ran across the United States Recreational Golf Association (USRGA).
Now in full transparency, I ended up reaching out to the leaders of the USRGA and they have since added the GolfStinks logo to its "friends of the USRGA" section of their website. But regardless of that, I endorse this organization simply because it provides exactly what recreational golfers need: A simpler set of rules that also work with a handicap system.
So what are these simpler USRGA rules? Well, to start with, there are 13 in total (in addition to a brief section on etiquette):
1. The Game of Golf consists of hitting a ball with a club around a golf course. The ball should be struck with a club, not pushed, scraped, lifted, thrown or spooned. A "round" consists of any number of consecutive holes on a golf course.  Each time a player strikes the ball it is called a "stroke."  The sum of all strokes in a round equals the golfer's score. A hole starts with a stroke from the teeing ground and ends on the green when the ball is holed.

2. The Rules of Play are to be agreed upon in advance by the players before teeing off on the first hole. The highest authority for settling disputes is the foursome or player's group. They may ultimately decide what is right under all circumstances.  Players may agree to add, waive or amend any Rule.  If there is a dispute not covered by the Rules, then the golfers in the group will determine how to resolve the dispute; the decision should be made in accordance with what is fair. The players may appoint a ruling committee for the purpose of settling issues during group or tournament play.  Advice may be sought or offered during the course of play but responding to a request is at the discretion of the golfers in the group.

3. Medal play consists of a round of consecutive holes when all strokes are counted. In Medal play the player must count every shot in a round and may not "pick up" after a shot.  In Stroke play all members of the group are "fellow players."  A "side" is a player or two or more players who are partners.  In match play the member/s of the opposing side is/are an "opponent."  Match play consists of a game when the players play each hole individually or with a partner against another individual or an individual and his partner.  A Match can be played for any consecutive number of holes until a winner is established.  A match can also be played as a Nassau when the match is divided into a first nine, second nine and an overall match.  Each hole has a winner/loser or a tie score.  Players may pick up after their ball no longer counts on a particular hole.  Rules for Match and Medal play are the same regarding penalties. In case of a tie it is suggested that additional holes should be played until a winner is determined. The player's may play in any order they choose.  In competitions, the player/side with the lowest score on the previous hole tees first.  There is no penalty for playing out of turn.

4. Any commercially available balls and clubs that are solely powered by the golfer's swing are deemed acceptable for play. A player is allowed to carry a maximum of 20 clubs. Penalty for exceeding the limit is one stroke.  Clubs may not be altered during the course of play but broken or damaged clubs may be replaced at any time during the round. A player claiming a handicap or average score for a given golf format should play with the equipment used to establish the handicap for that golf format.

5. It is allowable for a player to switch balls at any time during a round; this includes switching the brand, model and number of the ball.  The ball may be lifted, cleaned and placed without penalty at any time.

6. If the wrong ball is played the shot/s should be replayed from their original position/s.  There is no penalty for hitting the wrong ball.

7. If a ball is lost a player has two (2) minutes to find it.  The penalty for spending more than two (2) minutes searching for a ball is one stroke. The penalty for spending additional time beyond four minutes is one additional stroke

8. If the ball is in a "non-standard" condition for the location, it is acceptable to improve the position or lie of the ball one club length except on the putting green.  Such "non-standard" conditions include divots, bare or uneven turf, temporary water, cart paths, sprinkler heads or hoses and unraked sand in a hazard.  The ball may be lifted and placed one club length but not closer to the hole. When improving a player's lie, the new lie should not be moved from the rough to the fairway, from the fringe to the green or out of a bunker to the rough or fairway.

9. The flagstick does not need to be removed unless it is requested by the player who is chipping or putting.  If a ball hits the flagstick and it is not holed there is no penalty. If the ball comes to rest against the flagstick it is considered holed.

10. A ball in motion should not be deliberately deflected or stopped by the other golfers in the group or their equipment.  Penalty for violation is one stroke.  A ball on the putting green that may assist or interfere with a shot should be marked and lifted.

11. If a ball comes to rest out of bounds, in a water hazard or lateral hazard, the ball should be placed as near as possible to where it went out of bounds or entered the hazard and not closer to the hole.  The golfer also has the option to replay the shot or use a designated "drop area".  The penalty is one stroke.

12. Movable objects may be moved if they interfere with a swing or the player's line of sight.  A player is entitled to move the object without penalty. A player is entitled to move the ball one club length to get relief from immovable unnatural objects (telephone poles, fences, drain pipes, maintenance equipment, etc.) with no penalty.

13. A golfer may deem his ball unplayable and may place the ball near where the ball is deemed unplayable.  If it is unplayable in a bunker it must be dropped in the bunker.  If ball is in hazard it must be dropped in the hazard. Penalty is one shot.
If you took the time to read the above, then you would have recognized these rules are pretty much they way most of us play anyway (but differ quite a bit from the USGA rules). For example – rule #5: We weekend golfers don't worry about playing the same brand of ball during a round – heck, we often find a ball mid-hole and switch to that one instead! And it shouldn't be illegal to do so. Rule #6: Accidentally hit the wrong ball? No worries – just apologize and re-hit the correct one. Rule #8: Roll-over sanctioned and lift, clean and place approved! How ridiculous that we must play our muddy ball from a divot! Of course most of us roll-over (and clean) – it only makes sense.
Plus, some of the USRGA rules address slow play: We recreational golfers spend far too much time looking for a lost ball. Rule #7 specifies 2 minutes only (as opposed to 5 minutes under the USGA rulebook). And #9: Why do we have to go through the "tending the flag" ritual on every green? Heck, why do we even need to waste time walking over to remove said flag? Well under the USRGA, now we don't have to. And of course, rule #11 does away with that obnoxious "walk back to the tee to re-hit a ball that is lost/OB" rule.
For the majority of golfers out there, the aforementioned rules should be leaps and bounds better than the current USGA rulebook. They are not only more easily digestible, but are bound to keep recreational players happier out on the course…without sacrificing the integrity of the game (which is important and why other alternate rulebooks have failed).
But what about those golfers who keep a handicap for tournament play? Well, the USRGA has them covered. Along with your free membership to the USRGA, you also gain access to the USRGA handicap system, where you can enter your scores much like you would elsewhere.
Interestingly (but not surprisingly), this handicap system, when coupled with rule #4 above, allows golfers to play (and keep a handicap with) non-USGA-conforming golf equipment, like the Polara golf ball/clubs, which we've posted (both the pros and cons) about before. I say "not surprisingly" because it should be noted that one of the co-founders of the USRGA is also the chief executive at Polara. But regardless of that convenient overlap, this is another way the USRGA provides recreational golfers with flexibility: If you want your handicap to reflect your skill level with a self-correcting ball, that's no problem – just make sure you play in the tournament with said self-correcting ball (or your handicap will prove you a liar).
Overall, I would fully embrace the USRGA – it lets recreational golfers be, well…recreational golfers. And it puts into writing many of the things we do anyway out on the course (and this fact shouldn't be dismissed so easily – people don't want to be rule breakers – in general, they want to follow all the rules of whatever it is they are engaging in). Thus, having a separate set of rules for recreational players is exactly what golf needs to help welcome new players and retain veteran players alike.
That all being said, it would be truly nice to see the golf industry (from teachers to courses to even the USGA and other leading golf organizations) recognize a separate set of rules for the recreational player. And so far, the USRGA seems to be the most logical choice.