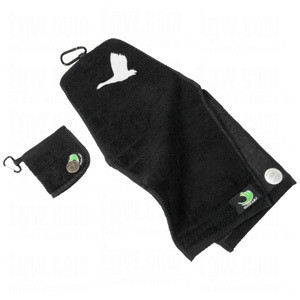 Last year about this time, myself and my buddy Tom (who also happens to be a co-founder of GolfStinks) were playing the first round of the new season. We were walking up the second fairway after hitting our approach shots when Tom stopped, bent over and held his hand to his nose.
I'm not sure if it was the cold spring air, or the jolt from the swing of his 7-iron, but he had a nose bleed. As I came over to help by asking for his golf towel, his reply was more shocking to me than his face (which looked like we were playing hockey instead of golf): "I don't have a golf towel."
WTF?
Who doesn't carry a golf towel? I mean seriously, it's the most important accessory on your golf bag. I've taken my golf towel off to wash it and then forgot to put it back on before my next round and I felt naked out there – as if I forgot to wear my wedding band.
Not only does your golf towel clean off your clubs, but it also dries your hands; washes your ball; shields your neck from the sun; acts as a rain cover; and on some occasions, can be used to wipe a bloody nose. But with no towel of his own, I was forced to sacrifice my towel.
Although I replaced it the next round with another one I found (typical white cotton towel with the logo of some golf tourney I had played in years ago), I felt it was time to get a real golf towel. You know, one that does more than act like a rag – something specifically designed for a golfer.
One such towel is produced by Goose Golf. This isn't just an ordinary towel – this Canadian company has created the perfect towel for out on the links. The three-layer cloth has anti-microbial cotton on the outside for great drying results. But on the inside, they've put a microfiber that can be moistened before your round to help clean off dirt and grit after a sand shot or taking a beaver pelt. Meanwhile, sewn between the anti-microbial cotton and microfiber is a water repellant mid-layer to help keep the wet inner layer from getting the dry outer layer damp.
So far I'm really digging this idea – you can clean your clubs really well inside the towel and dry them really well on the outside – plus if it's raining, you can use the whole thing as a water-repellant rain hood!
But the folks over at Goose Golf didn't stop there – they added a pouch (which is detachable) of the same materials specifically for cleaning your ball. And on that pouch is a magnetic ball marker to boot! But there's one more feature – their unobtrusive logo, which is embroidered at the top/center of the towel, is made of velcro – so you can hang your golf glove when you head over to the putting green!
At only $20, I'm sold. But why should I be the only one with a new golf towel? And on that note, the good peeps at Goose Golf have sent me a few "extra" towels for y'all to enjoy too! Just head on over to our Facebook page and comment (not just "like") the post on our wall entitled "The Most Important Thing on your Golf Bag." That's it – we'll choose 4 random winners next week!
Now, I really hope Tom doesn't get a bloody nose again this year…