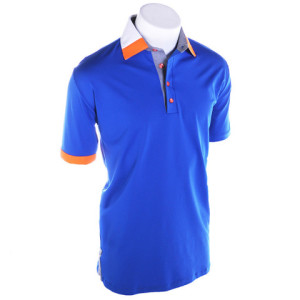 The golf polo. A classic piece of clothing that has made its way into the closets of millions. From the golf pro to those that swung a club once, chances are they have donned this top. Through the years of hacking my way around courses I've seen a variety of polos. Now that I had a chance to think about it, most of the shirts golfers wear are pretty boring including my own. It's like we try to find anything with a collar so we can get out there. We need help.
Enter Alial Fital. A shirt company started by retired NFL quarterback Gibran Hamdan. In his newly acquired spare time, Hamdan taught himself to sew on his wife's sewing machine and began making shirts for himself. Soon, his friends began requesting these shirts and a new company was born.
Thanks to the folks over at AF, they were generous enough to supply a golf polo for us to try out and let me tell you, it does not disappoint. For example, I always had an issue with the collars on regular polos. After a couple washes and wears the collar ends up looking like a piece of cooked bacon. AF took care of that problem by combining a woven dress shirt collar with a super soft polo. Finally, a nice firm collar that stays.
Speaking of super soft, the moisture wicking materials and quality of this shirt are top notch as is the fit. A true to size cut that doesn't interfere with your swing. I personally like that their "golf cut" doesn't follow the traditional slightly oversized and baggier style most golf polos have. And for the fashion conscious golfers, AF only makes 100 of each polo and that's it. Therefore minimizing the chance of sporting the same shirt as someone else…how embarassing.
When you get a chance, check out their colorful selections and styles and treat yourself or a loved one to a quality polo made right here in the U.S.A.!
Hit'em long…yell FORE!!!