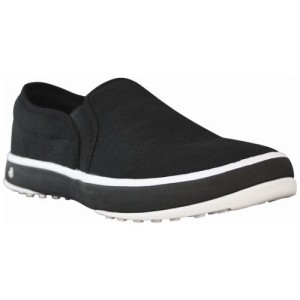 So I spent my Super Bowl Sunday morning with a couple golf buddies at the indoor golf simulator, smacking balls into a screen that was projecting Teeth of the Dog Golf Course in the Dominican Republic.
And while we always have a good time at the indoor range, this wasn't just a social (or practice) session – I was also there on official Golfstinks business: I was tee-testing a new pair of DAWGS Golf shoes – the Men's Crossover (black).
Touting themselves as offering the "world's lightest golf shoe," DAWGS Golf doesn't sell your typical golf cleat. For starters, there's no leather – In fact, most of their shoes are constructed with Ethylene vinyl acetate (EVA), which gives them their lightweight properties (think Crocs with soft spikes).
However, when I was asked to review a pair of DAWGS, it was their Crossover shoe that caught my attention – the Crossovers are made of lightweight canvas and come in both black and (for the more adventuresome) houndstooth.
It wasn't just the looks of the Crossovers that caught my eye – it was the lack of a soft spike. Instead, the Crossovers feature rubber nubs that allow you to wear them both on and off the course – and that's what enticed me – that I could pull these out of my closet in the morning; drive to the course in them; play 18-holes in them; drive to the super market in them…etc, and never change my shoes!
But would they do their job on the links? (Their job, of course, is to provide both comfort and stability).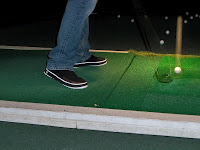 In short, my answer is yes. These Crossovers are super comfy (I actually wore them the entire day – from my round on the simulator through Tom Brady's incomplete end-zone Hail Mary) and there wasn't one slip on the teeing mat. In addition, they look pretty cool (I was wearing jeans during my test, but they look great with khakis too). At 50 bucks, these versatile shoes are well worth it.
That being said, I should add a couple caveats.
Obviously, the Crossover may not be the best shoe to wear in wet conditions. First of all they are canvas, so they will soak through. And secondly, with the rubber nubs, you may not get the stability on wet grass as you would with normal soft spikes.
Also, you may consider ordering a size up from what the measuring chart on their site tells you. They don't seem to come in half-sizes, so DAWGS Golf provides a chart to show how to measure your foot to decide which size to buy. I measured and (according to their chart) was a 9. I went with 9 and it's a smidgen tight. But when I re-read the chart for this post (after the fact), I noticed it recommends to order a size up (so, I probably should have gone with a 10).
Both of these issues seemed minor in my mind though (after all, I wore my slightly tight size 9's without complaining all day). So, I definitley recommend giving them a try if you're in the market for a multipurpose golf shoe.
And if you are, then you're in luck, because DAWGS Golf has agreed to give one of our Facebook fans a free pair of black Crossovers! Check our Facebook Page for details!