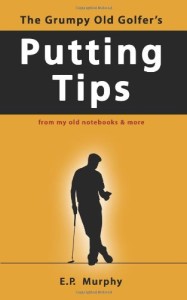 I've never been one to spend a ton of money on a putter. To spend $100+ for something that, in essence, could be replaced by any flat-faced object with a handle never made much sense to me.
For me, it's always been about the "feel" of the putter in my hands. If I had confidence in it, then I would have success with it. For some, having confidence means spending a ton of money on the latest mallet or blade style putter; for others, like Happy Gilmore, a modified hockey stick did the trick.
So it struck a cord when I read Tip #6 in "The Grumpy Old Golfer's Putting Tips" book:
"When choosing a putter, confidence in the putter is more important than the cost."
And then Tip #10 too:
"Choosing the correct putter for you is a very individualistic and personal decision. Never let someone choose your putter for you."
The Grumpy Old Golfer's Putting Tips has 300 quips like those mentioned above. Author E.P. Murphy explains at the beginning that many of the tips will convey similar sentiments, but will be stated differently. This is done to address the varying personalities of those reading the book – a tip that connects with one person, may only connect with someone else after a being restated in a different way. Plus the repetitiveness helps drive home his points.
Mr. Murphy is extremely transparent from the start, stating his book alone isn't going to make you a great putter…but it will make you a better one. He has drawn from his 40+ years on the links and his collection of notes along the way: "This grumpy old golfer and his old worn notebooks will provide all you need to take you to another plateau in your putting skills." And he might be on to something. After all, putting is a very important part of the game – as he states in his book; "Over 40 percent of the average golfer's score comes from putting."
Some of the tips you might have heard before ("Tip #127: On short puts aim to the back of the hole") while others are unfamiliar, but effective: "Tip #119: On short putts, visualize yourself frozen in a block of ice up to your waist. Use only your upper body to execute the putt."
But the book isn't just a collection of tips. Each chapter is a theme (the approach; the setup; etc.) and at the beginning of each theme, Mr. Murphy digs a bit deeper with his narrative. The last chapter (Putting in a Nutshell) is a standalone pocket guide in and of itself, providing tips for short putts; long putts; and even preparing mentally.
But the tips make this book a must read. Perhaps my favorite is this one:
"The only club in the bag specifically made to hit the ball into the cup is the putter. Master it first, master it best."
When you think about it, the above statement is perhaps one of the most profound pieces of golf advice you may ever receive. And the source is not your typical confusing and hard-to-read golf self-help book. Instead, The Grumpy Old Golfer's Putting Tips is a simple and easy way to help keep you focused while on the greens.
The Grumpy Old Golfer's Putting Tips is officially being released today via Amazon, Barnes and Noble and other online retailers.