With the gift-giving season upon us, I thought I'd post about something you could give to that golfer in your life. The one caveat? It has nothing (specifically) to do with golf.
We golfers tend to enjoy the finer things in life. Perhaps a mid-round cigar or 19th-hole libation to complement our stroll around the landscaped forest we play this great game in.
And while some of us golfers prefer our libation be something rather hoppy, there are just as many who enjoy a good spirit every now and again – especially this time of year. But to really become a connoisseur of fine spirits, you have to taste a lot of liquor. And, let's face it, that can get rather expensive.
To that end, we here at GolfStinks would like to introduce you to Flaviar – a company that's committed to helping you find your favorite libation without wasting your hard-earned money in the process.
The idea behind Flaviar is brilliant: To provide sample boxes of spirits on a monthly basis, curated specifically for you. This works great for folks like me, who are interested in exploring what's out there without having to spend $50 or more on a bottle they may or may not be particularly fond of. Not to mention, once you find the spirit you love, you can order the full-size bottle directly from Flaviar.
But spirit tasting is all about sharing, and this is where Flaviar excels. I recently received a sample box of 5 different Scotch whiskeys from Flaviar. Packed neatly in a small box and complete with tasting instructions and history/flavor profiles for each spirit, I promptly invited my golfing buddies together for Monday Night Football…and a little Scotch.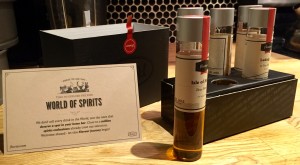 During the pregame, we opened our Flaviar sample pack and read through the tasting instructions – organized glassware, arranged our snacks and learned the proper order of tasting: Appearance; Smell; Taste; and Finish.
Once the game got underway, we opened the first sample and the fun began. What was happening on the gridiron soon became secondary to what we were learning about each Scotch in the tasting box.
We took our time, really tried to consider the smells and tastes of each particular brand and took time to cleanse our palates (with water and snacks) in between. In fact, it took most of the game (2+ hours) for us to go through and evaluate all 5 samples…and we had a blast doing so!
Afterwards, we all agreed we'd do this again in a heartbeat. Plus, we each were looking forward to other Flaviar sample boxes like rum, tequila, cognac and bourbon.
We could totally see how receiving one of these sample boxes monthly would not only help you build your home bar, but also provide an excuse to get your friends together – especially during the winter when you don't see each other on the golf course!
So this year, instead of telling you about new clubs or golf shoes you can gift to that golfer in your life, maybe instead, gift a sample box of fine spirits for 2- or 6-months (or more). As they say on the Flaviar website: Santa brings toys; We bring whiskey.
Happy Holidays Stinky Golfers!