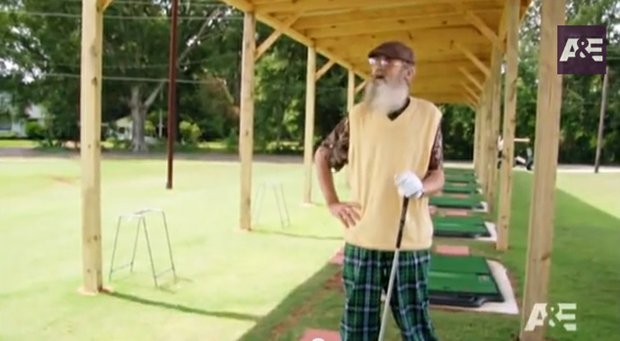 Let me start by stating, I am not at all a fan of reality TV.  For the most part, I can't stand watching a bunch of nobodies over-acting in what is a clearly scripted, but tries to be passed off as unscripted, show.  If I'm going to watch a sit-com or drama or whatever type of show, I want to be entertained by actors and actresses who are professionals and who know what they are doing.  I don't want to see some bobble-headed idiot trying really hard to "act."  Bottom line – if you are turning on The Real Housewives of anywhere, and feel like you are watching quality television, you need to turn off your TV and find something better to do with your time.  It's television for idiots.
That being said…a little over a year ago, I let my wife talk me into watching an episode of Duck Dynasty.  That was a mistake, but not because I saw it as a typical reality show.  Instead, quite unexpectedly, I enjoyed it!  It turned out to be funny and very entertaining.  Before I knew it, I started watching every week, and to me, Uncle Si became one of the funniest people on television.  So imagine how excited I was when I saw that last weeks episode would include Uncle Si discovering Youtube and attempting to post an instructional golf video, despite not being a golfer.  What followed was this golf lesson from which no one should try to learn anything.
Take a look at his "Four basic, simple steps."
1.  Stance – "OK, step 2…."  That's all he has to say!  "Stance."  Basically, he said to just stand there!  Not how you stand, where you stand or where your feet should be.  Nothing except to stand there.  Genius!
2.  If you want this ball to go a pretty good distance, you swing hard – Does that even qualify as a "step," or is that more just a general statement?  I mean, he's right.  If you don't swing hard, the ball may not go very far.  Still though…maybe not the best advice you can get.  Funny nonetheless.  Also, reminding us that hitting the little white ball is of paramount importance (not quite pronounced that way though) is a great tip!
At this point, the self-described "Amateur golfer, but a professional golf instructor" takes us to steps 3 and 4 which will help us with our putting.
3.  Figure out your long putt – Now that's a great step.  Figure out your long putt.  If only someone told me that thirteen years ago, I could have had this game mastered by now!
4.  Don't overdo it – As he rockets his putt past the hole.  Once again, is this really a step?  Or more just a word of advice.  Either way, I guess it could be helpful, right?
OK, so it's obviously a big joke – the guy doesn't play golf, but he's going to give us a golf lesson.  It's strictly for the sake of comedy.  But could you imagine if a golf lesson came down to something so simple?  Stand there and hit the ball hard.  When you're on the green, take out your putter and don't overdo it.  If we could all treat golf a little closer to this simple, we'd all leave the course with a bigger smile on our faces.
Swing 'til you're happy!