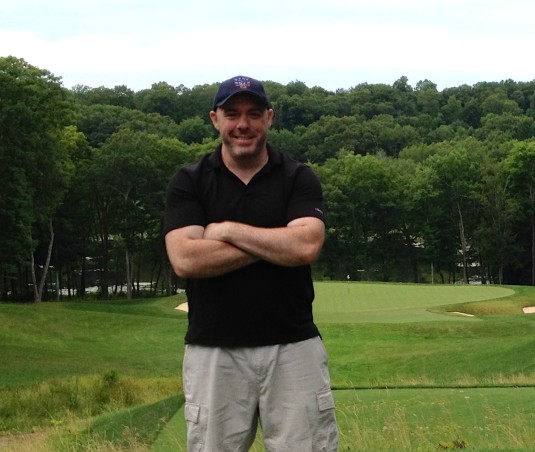 About Stinky Golfer Chris
Chris Chirico is co-founder of GolfStinks, LLC.
Quotable…
"I stink at golf. I have since the day I started. As a matter of fact, I haven't really improved much since then. But that's not what matters. It doesn't matter to me if I shoot an 80 (not that that's ever happened by a longshot) or a 110 (which has happened all too often). What matters is that I simply love to play. Just being out on the course is good enough for me. Don't get me wrong, I try to do well. But there's so much more to a day of golf than just playing the course. Hanging out for a few hours with friends, the scenery, the conditions of the course, throwing back a few brews and stuffing our faces at the 19th hole afterward, a cigar here or there, good conversation….just a day away from the real world. Swing 'til you're happy!"
Chris is a regular contributor to the GolfStinks blog and here's some of his latest work…
Chris' Recent Posts:

Q&A with Stinky Golfer Chris…
Years Stinking at Golf: Every year!

Average # of Rounds per Year: 15-20
Golf Equipment: I won my putter at a stag…that should tell you something. It doesn't matter what kind of balls I use, they're just going to end up in a hazard anyway.
Golf Balls Lost in an Average 18 Hole Round: 4-6 easy. But I'll find some in the woods while I'm searching for my own. So it balances out most times.
Favorite Course Played:
TPC River Highlands
Dream Foursome:
Me, Bill Murray, Jack Nicklaus and Michael Chirico…my father
Most Interesting Golf Experience:
Hilton Head Island, May 2001 – Myself and three other stinky golfers were playing 18 on Shipyard Golf Club's Clipper/Galleon Course. On the second hole, we took notice of two alligators lying absolutely still by the edge of a nearby pond, so still that we questioned if they were real or mere decoration (We chose to move along rather than find out). On one of the following approach shots, our question was answered. We heard a splash and caught a glimpse of an alligator's tail disappearing into the water. With that confirmed, I of course proceed to drop my approach short of the green and no more than 15-feet to the left of a sunbathing gator. Now, I'm not one to lose a ball that's in plain site so, scared to death but not showing it, I walk right up to the ball, tell the gator "I don't want any trouble" and chip onto the green. I believe I bogeyed, the gator could care less and I changed my boxers at the turn…
---
GolfStinks contributors: Stinky Golfers Chris, Greg, Pete & Tom