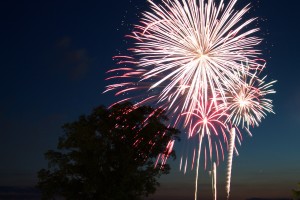 Independence Day. Believe it or not, it's about more than cookouts, the day off from work and driving across state lines to get the "good" fireworks. But this isn't a history lesson. I think we all know the reason we celebrate on the fourth.
But speaking of that day off from work, one would think that would give us one extra day to golf. But I guess between all of the running around between parties and gatherings, there probably isn't much time left for golf. But what's funny is, with all of the time spent with family members you rarely see (some of whom their names you don't even know), on Independence day, you're left with very little independence of your own. I guess what makes it even more ironic is, with as little independence as you are getting, all you're trying to do is get out and play the most independent of all sports.
For the most part, everything about the sport of golf boils down to one person…you. Just about everything involved in the sport requires independence. Golf is not a team sport, you are your team. One person hits the ball. One person is responsible for the result of that swing. And one person is responsible for the final score.
There is no teammate to blame for a bad lie or a missed putt. You are the only person responsible for your ball landing in the drink or out of bounds. And you are the only person who can fix your situation.
But even further, it is you who is expected to keep track of your score. You, and you alone, are expected to be honest about the results of your game. After all, if you shave a stroke here or there, what are you really gaining?
Is it the independence required for this game that attracts players? Or is it the pressure of the independence that forces people to either quit or never take up the game to begin with? Does the independence force more people to feel as if they must be honest with themselves? Or does the independence of the game give too many people free reign to write down a 6, when they know damn well they just picked up a snowman?
For me, the independence of the game is a draw. It's a challenge to know that I'm responsible for everything I do in this game. Having no one to blame but myself keeps me interested in the game. I can cheat, but why would I? It may make my score look better, but I know that it's not making me any better.
Hopefully, some of you have better luck this weekend that I do. Unfortunately, it looks like I just have too much going on to get myself out on the course. No independence on Independence Day. But I'll do my best to get back out there as soon as possible. Even if I have to go by myself.
Swing 'til you're happy!