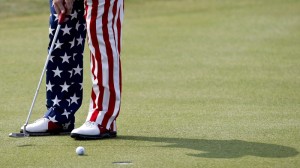 Wide open, as in "The course is wide open today." I'm sure most golfers are always on the look out for the best time to play. Unfortunately, there are some that can only play once in a while and  it's during peak hours. But, if you are like me, I search for optimal times (and deals) and note them for future use. For example, yesterday, we squeezed in a quick nine between hot dogs, beers and fireworks. Before heading out we called to see if they were open and they were. We proceeded to ask "Are you busy today?" Their reply, just as the title hints, "We are wide open today. Only 2 groups out there."
Sweet! I think I just found one of those notable times to go golfing. Yeah I know it was the 4th of July but man it was great! We were hitting 2 or 3 balls off every tee…got our money's worth! It was also a bit weird too. Not a person in sight. It almost felt as if we snuck on when they were closed. Not for nothing, why were they even open?  Three groups all day does not bode well for the bottom line. I'm guessing it would be cheaper to stay closed.
This also makes me wonder about golfing on holidays in general. Come to think of it, in all my years of golfing I might have went out 5 or 6 times on a holiday. And the more I think about it the more I remember the courses were a ghost town every time. Hey now, this could be a new tradition I start. Get a bunch of the guys together for an earlier round, have a holiday celebratory beverage and then everyone does their thing after.
This seems to be getting to the core of what I love about golf. Besides the shot that keeps you coming back and the first eagle and the beers at the turn and the beers after. Did I mention the beer? It's great to share this time with people you want to be around. The "holidays" aren't just Christmas, Hanukkah and New Year's…there's a whole other season with a few great opportunities to get together. No gifting either which is a bonus.
Hit'em long…yell FORE!!!