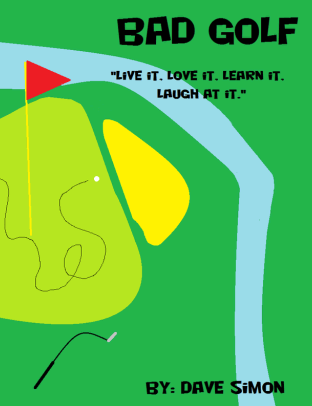 There's an ethos we live by here at GolfStinks: You don't have to be good at golf to love it. And in the spirit of that ethos, we strive to write commentary that helps you accept the fact that even though you might stink, you can still get great enjoyment out of this game.
It's in this spirit that author Dave Simon penned Bad Golf. After receiving my copy and initially thumbing through the pages, I thought I had the book figured out; Mr. Simon had written a comical take on how bad the vast majority of us are at this game. However, after reading a few chapters, I realized Bad Golf is so much more.
In reality, what Mr. Simon has done is create a golf self-help guide. But this guide doesn't give you tips on how to play better – instead it provides you ways to enjoy the game in spite of your wretchedness on the links! His premise is simple: You're bad at golf – most of us are. So, why not accept that fact, move on and start having fun despite your high handicap? Sounds like a book GolfStinks can stand behind!
Bad Golf is 34 (somewhat short) chapters of rollicking ideas to help you forget the quadruple bogie you took on the 7th or the sleeve of balls you lost on the 13th. Chapter titles include: "How to get better, briefly;" "450 yard par 4's made easy;" and "I know what I did wrong (but can't correct it)."
One of my favorite chapters (Fun topics when things are going worse than usual) encourages you to use comedy to get your mind off the terrible round you're having. In one example, Mr. Simon suggests you have an exploding gag golf ball in your bag for this occasion. But don't try to pull the gag on someone else – instead, he suggests you walk to the next tee and use it on yourself! Unbeknownst to your golfing pals, you step up to the tee and drive the ball into a cloud of powdery smoke – resulting in laughter from all (including you). The point is to get your mind off your round and it's genius! I'm definitely giving that a try next time I find myself playing a particularly miserable round!
Bad Golf is more than just poking fun at yourself and your golf game – it's an instructional guide to getting more enjoyment out of golf! While you might not lower your handicap reading this book, you'll surely learn to not sweat the high scores as much. As Mr. Simon says: Live it. Love it. Learn it. Laugh at it.
You can download the e-book version of Bad Golf on Mr. Simon's website here: justwrite15.com/bad-golf.html (scroll down a bit once the page loads).