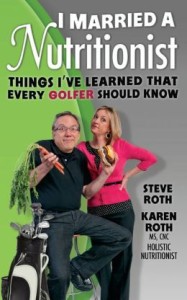 When the co-author of this book emailed me to write a review, I jumped at the chance – not just because the book's topic was interesting and rather refreshing (proper nutrition geared towards the average golfer) but also because I had my own story to tell.
Up until fairly recently, I was like many other American males when it came to health: Overweight (by 30+ pounds); out of shape (which affected me both on and off the course); and too ignorant about proper nutrition to do anything about it.
I didn't have the benefit of reading "I Married A Nutritionist" – if I had, I may have gotten healthier a long time ago. Instead, I ended up reading several books (not diet books, rather books on the food industry and how human beings should really be eating) over the course of several years, which led to me ultimately changing the way I eat and live.
What took me years to wrap my head around and apply to my daily life has been put inside a nutshell in Steve and Karen Roth's book, "I Married A Nutritionist; Things I've Learned That Every Golfer Should Know." Mr. Roth, a writer and golfer and Mrs. Roth, a certified nutritionist with a masters degree in holistic nutrition, tag teamed to write this book in a conversational style that the average person can truly comprehend (and trust me, understanding which foods are good for you and which foods are not can be very complicated).
This book literally teaches you how a person should eat – especially how to navigate in today's world of processed foods; artificial flavors and colors; and genetically modified organisms (GMOs). From why eating grass fed beef is healthier to why buying "real" food should matter to everyone, "I Married A Nutritionist" is like having a chat with your own personal nutritionist (which was obviously the intention of the book).
But Mr. and Mrs. Roth don't stop at what foods you should eat and why – they also provide recipes and meal prep tips along with advice to rid toxins from your life (both from the food we eat and the non-food products we use everyday).
The book's subtitle (Things I've Learned That Every Golfer Should Know) is a little misleading because it's really for everybody – not just golfers (it should be noted this is the "golfer's edition" of the book, which was originally marketed as "Things I've Learned That Every Guy Should Know"). But in this edition, the Roths' do try and highlight how their topic relates to golfers – especially in an early section of the book that covers what you should eat before, during and after your round.
The book is also unique in how it's written – each chapter is literally a conversation between husband and wife – she the educated specialist and he the comedic golfer who uses clubhouse humor to put things in layman's terms. Their back and forth banter might get a little corny but there were multiple times I laughed out loud – especially the part about preparing a whole chicken to cook in a crock pot.
But let's get back to my personal story for a moment: As I mentioned above, I have read several books on the current food industry in this country and what human beings should be eating to live healthy. I don't subscribe to any particular "diet" but I have learned good practices. Those practices allowed me to lose 40 pounds over the past two years. Later this year, I turn 40 and I can honestly say I'm in the best shape of my life (starting to sound like a late-night infomercial now, huh)?
My point in telling you this is that all the stuff I learned (and then some) is covered in "I Married A Nutritionist." Being healthy doesn't have to be hard – all you need is a willingness to change your eating habits and a guide on how to do it – the latter of which is this book.
"I Married A Nutritionist" is the perfect book to get you on a path to changing how you eat for the better. Eventually you might want to do some deeper dives on the subject, but this book will certainly get you started. And if you're a golfer, you will definitely appreciate a few of the references within its pages.
If you have a willingness to change the way you eat so you can be healthier, then head on over to our Facebook page where you could win a copy of the book. Simply find and "like" the post on our wall for "I Married A Nutritionist" and that's it – we'll choose one winner next week!
If you don't end up winning, you can always purchase a copy of "I Married A Nutritionist" HERE. It's a great way for you or that golfer in your life to finally eat healthy and stay healthy!