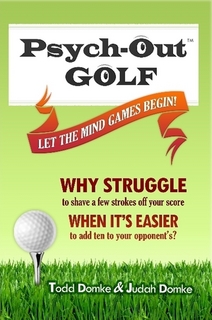 Being that we're not your average golf blog, we typically don't review your average golf book. And nothing fits the atypical golf book mold better than Psych-Out Golf. They say golf is half mental. If that's true, this book can help you in ways you could have never imagined!
Written by a father/son team (Todd and Judah Domke), the recently published Psych-Out Golf has ten chapters and none of them help you shave strokes off your game. Instead, this book helps you add strokes to your playing partner's game – genius!
Messrs. Domke and Domke have brilliantly put together countless ways to get the best of your opponent on the links – from making subtle yet mentally debilitating statements to getting them a bit tipsy, Psych-Out Golf is packed with ways to win a hole or round without actually playing well yourself!
Now the authors do point out this book is really for those of us who like to wager on the course. That's when the pressure is really on, and subsequently when a good POG (psych-out golf) will work its magic. But it can be utilized in other situations. As one of their POG "Commandments" states: "Thou shall not practice Psych-Out Golf unless money or pride is at stake. Or if the opponent is a jackass." Beautifully said if you ask me.
So what are some of these POGs? Well, let's take the chapter on putting, for example. Messrs. Domke and Domke give you plenty of ammo for launching an all-out assault on your opponent whilst on the greens – from not granting that 18-inch gimme when skins are on the line (after you've been granting them the rest of the round) to saying something like "Those [short] putts kill me. The hardest putts can be the easiest" just before your opponent's seemingly easy putt. While you're not saying anything flagrant, you are definitely getting into his head!
But the aforementioned POGs while putting are just the tip of the iceberg. There is a chapter on using the rangers or MOFOBETEs to make your opponent nervous; a chapter on citing rules to incite mental disruption in your opponent; and there's even a section on how to use the (motorized) golf cart to your advantage!
Now I have to admit, I don't bet too often on the course. But I do like to have fun out there so I'm anxious to put some of these POGs to the test! And who knows, if they seem to work, maybe a friendly wager will be in order!
Psych-Out Golf is a rollicking guide to winning a few skins on the course while driving your playing partners batty – and it's all in good fun. You can purchase your copy of the book HERE. But as always, the Domke gentleman have graciously provided us with a copy to giveaway to one of you! Simple head on over to our Facebook page, find the "Psych-Out Golf" post on our wall and tell us why you can't wait to psych-out your golf buddies! That's it – we'll choose one winner next week!
Good luck!