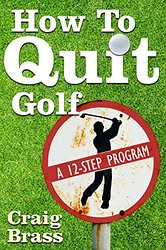 "How to Quit Golf; A 12-Step Program" is a book written by Craig Brass – a self-described problem golfer who is trying to rationalize why anyone in their right mind would ever want to play this game. His most logical conclusion? No one who plays golf is in their right mind. In fact, he likens golf to an addictive drug that is impossible to quit and will ultimately consume your entire life!
As such, each chapter of the book is one of twelve steps that Mr. Brass has carefully thought-out to help get golfers on the road to recovery…with the end-goal of never stepping foot on a golf course again!
But don't let this premise deter you – How to Quit Golf is a wonderfully hilarious and disturbingly accurate critical analysis of both golf and golfers – especially those who take the game too seriously. And while some of the imagery contained in the book is slightly exaggerated (purposely and for effect), it is nonetheless one of the most well-constructed and unabashedly genuine compositions about the realities of being a golfer.
It is without a doubt a book every average golfer should read – from the 28-handicap hack to the single-digit handicapper who probably takes himself too seriously. This book will get you thinking – not necessarily about quitting golf (I mean, how realistic is that anyway) but rather about your place in the game and the game's role in your life. I would be hard-pressed to find another book out there that is more closely aligned with GolfStinks' message: Golf is a game; you should have fun playing it.
Originally written in hard copy format by Mr. Brass more than a decade ago, we are now treated to this updated e-book version (with forward by actor Jeff Daniels). It is a great last minute holiday gift for any problem golfer in your life! Highly recommended; average golfer approved!
The e-book is available at the following retailers: