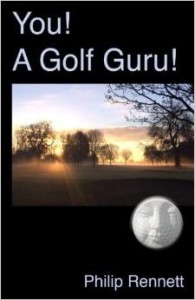 As usual, the books we read here at GolfStinks are not intended to fix your grip, swing or putting stroke. Rather than tell you about the latest gimmick or trick to lower your handicap, we are hell-bent on helping you have more fun playing golf…regardless of how you score.
One such publication is; "You! A Golf Guru!" – a book that was recently written by Phil Rennett in the UK. Mr. Rennett took-up golf in his 30's and over the course of the last 20 years, he has figured out what most golfers never do: That to truly enjoy this game, you have to be at peace with your score and find the real reasons you play golf.
Mr. Rennett is quick to point out the book isn't an instructional manual. As such, he devotes a good portion of its pages to the many pleasures of golf beyond just playing well – highlighting the chance to get out in nature and converse with friends.
This relatively short (103 pages) book is packed with advice that will teach you to see the good through the bad. For example, don't let a poor shot get into your head – instead, "relish the opportunity to create a memorable moment for yourself with the recovery shot." As Mr. Rennett pens at the very beginning of the book: Always walk off [the 18th] with a positive.
Perhaps most appealing is his "Lessons for Life" chapter towards the end of the book. There, Mr. Rennett reminds us to not worry; be patient; and accept the skill set we have. Only then can we see golf (and maybe even life) in a new light…and begin to find true enjoyment in the game.
Mr. Rennett's book resonates a message we've been shouting here at GolfStinks for years: That golf is a game and you should have fun playing it! Go HERE to get your copy of "You! A Golf Guru!"