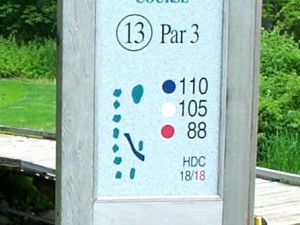 As we all know, there are three types of pars for golf holes – Par 3's, 4's and 5's. And as much as we think some par 5's should be par 6's, we all realize there's no such thing!
Each of these par types force you to have drastically different strategies. On par 3's, for example, you begin the hole as if it's your approach shot on a par 4 – you're targeting the green with an iron in your hand. Meanwhile on a typical par 5, it's grip-it and rip-it a couple times before you even get to target the green!
And while we may not have thought about it much before, we do have favorites. For example, I like par 3's (preferably 180 yards or less) – mostly because they play into my strength, which is mid-to-low iron play. And my results showed it – back when I would keep stats,  I always had a slightly better average on par 3's than on par 4's and 5's.
Meanwhile, many people like par 5's so they can "let the big dog eat" off the tee. I have to admit, there's something very invigorating about crushing a long drive perfectly down the fairway of a 550-yard hole. And now that I'm thinking about it, I'm not sure I would like par 3 holes as much if there weren't par 5's mixed in to spice things up a bit. Par 4's, on the other hand, can just go away as far as I'm concerned (just kidding about removing all the par 4's, but that would make for an interesting course)!
But what about you? Maybe you enjoy a good par 4? Or maybe you're like me and fancy par 3's instead? Take the poll below and let me know your thoughts in the comments. I'd like to say I enjoy them all equally, but I just don't.

Loading ...