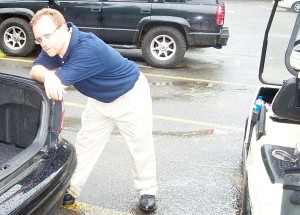 If you think about it, golfer interaction on the course can be a bit curt…and it all starts pretty much as soon as you take your clubs out of the trunk.
It might not always be exactly like this, but…
The first whiff of unfriendliness is usually in the parking lot as you're walking to the pro-shop. You'll see a fellow golfer walking back to his car – typically muttering to himself about a triple bogie he took on 16. You'll pass like ships in the night – nary a glance, let alone a word spoken towards each other. Ah, but that's just a taste of what's to come…
The unpleasantness continues once at the register to pay your greens fees. The Pro-Shop Punks behind the counter will inevitably mumble something about your tee-time (in some cases scold you if it's less than 10 minutes prior to said time), take your hard-earned money without even a smile and promptly send you out to the starter.
Now on your way to the starter, even more uncomfortableness can ensue. First, you might be worried the starter will continue to lambaste you for being only 7 minutes early for your tee-time. But more importantly, you're worried if they'll pair you up with someone.
That's right, I said it and you know it's true. We golfers never want to get paired up with anyone – especially that single who gets added to your twosome or threesome. It just kills the camaraderie between you. Plus, the last thing we want is to spend the next 4 (or 5) hours embarrassing ourselves in front of total strangers. Yes, getting paired up with strangers adds a whole new meaning to first-tee jitters.
But this is nothing compared to the cast of characters you have to deal with once out on the course: The advice giver; the rulebook thumper; the backswing talker; the guy who can't enjoy golf unless he's drinking a beer on every hole. And let's not forget about that arrogant SOB who claims he always shoots in the 70s but takes a double or triple on every hole.
Now don't get me wrong, I'm not saying golf isn't worth putting up with all of this stuff. I've been putting up with it for more than 25 years (started playing at 14) and I still love this game. And I'm also not saying every pro-shop employee is a punk, or every starter is to be feared, nor every playing partner an ass. But there sure does seem to be a lot of jerks out there. Maybe it's just a byproduct of the game itself or maybe golf just attracts less-than-friendly folks in general. Heck, maybe I'm among them!
And that brings me to today's poll. Do you think the golfing community has a higher percentage of rude folks than in general life? Take the poll and feel free to elaborate in the comments…

Loading ...