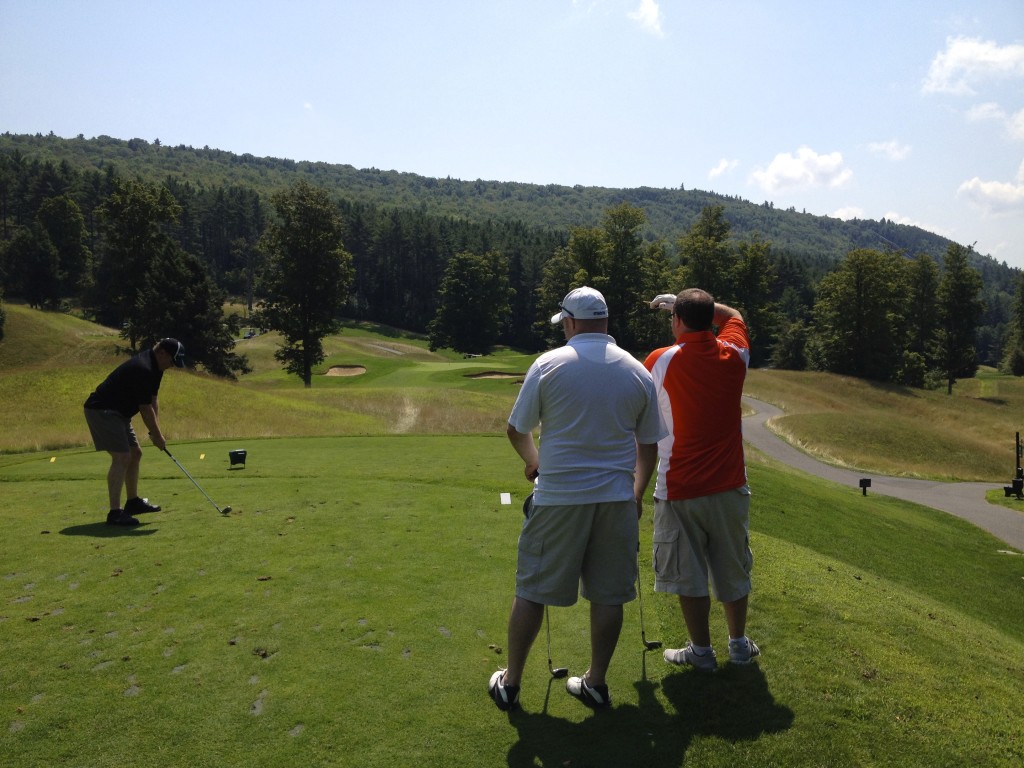 Hello my fellow stinky golfers…class is in session! Today we're going to learn the basics of taking a vacation for golf. If you've never traveled for golf before, then this will serve as a guide to help you plan an awesome, stress-free trip! Let's begin…
Lesson 1: Your budget
Contrary to popular opinion, it is possible to take an inexpensive golf vacation. Start by choosing a two-night stay instead of flying somewhere for a week or ten days. You can easily play 54 holes of golf or more staying just 2 nights: Drive to your destination early in the am (let's assume the trip is 5 hours or less). Play 18 holes that afternoon; 18 holes the next day; and 18 more early on the day you head home.
To get the most bang for your buck, go to a ski resort (I'm not joking – see my post HERE). These days, many ski resorts feature golf courses (and often very nice courses) to help supplement them in the summertime. You will save on lodgings (the GolfStinks crew rented a 3-bedroom condo for $250 a night at a ski resort two summers ago) and enjoy off-season rates on food and other amenities.
Lesson 2: Packing and getting there
It's always a good idea to pack light – especially if your clubs are tagging along. Renting golf clubs should only be an option in two instances: If you are spontaneously asked to play a round and your clubs aren't with you; or if you have flown to a vacation spot knowing you will only be playing one time during your stay. For all other situations, bringing your own clubs is worth it.
If you're driving to your destination, consider renting a minivan and going with your entire foursome (you'll thank me later) – the GolfStinks crew has done this before and it made life way easier. If you're flying, consider renting a minivan once you arrive (unless you're staying at a golf resort and not really planning on exploring on your own). And consider vacationing during the week instead of on weekends. You'll find less crowds (both on the road and at the course) and save on greens fees too.
Lesson 3: Enjoy yourself
This is the most important lesson. If you're like me, there are a lot of things that can distract you from having a good time while on vacation – traffic; lines at the airport; and perhaps most importantly, having a bad round! The trick is to not let any of this stuff bother you. Planning ahead and being timely can help most of this. And as for the poor play – remember, you play golf because you love it, not because you're great at it. If you find yourself getting frustrated out on the links, just remember you are on vacation and the goal is to enjoy the time you're spending with, well – whoever it is you're with – the golfing part is just an added bonus.
Not being a great golfer doesn't mean you shouldn't go on a golf vacation. But as with any trip, proper planning and the right frame of mind will go a long way in determining how much fun you have. There are plenty of great golf getaways out there – from taking a pilgrimage to the cradle of golf (Scotland) to staying closer to home. Regardless of where you want to go, if you plan it right, there's no reason not to take a golf vacation this year!
To help visualize proper vacation planning, I've embedded my short video below about efficiently packing your clubs and other tips for golf travel: