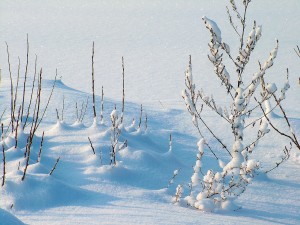 Living in CT all my life, I'm just used to the snow.  Be it three inches or three feet.  When you're a New Englander, you accept that you're going to have this kind of weather, so you don't complain when it happens.  You just accept that your garage or tool shed will include either a snow-shovel, snow-blower or both.  You accept that you will need to carry a snow-brush and ice scraper in your car.  But what you don't expect is to have to replace these things due to overuse in one season!  So coming off another winter storm, a storm which covered the snow from the last storm which was already covering the snow from two storms ago, you begin to wonder…when exactly is golf season going to begin this year?
I know it's a bit early still – I normally don't play my first round of golf until April at the earliest.  But here we are in mid-February.  We've had six snowstorms in the past six weeks and talk of a seventh this week.  So when exactly are the courses going to be ready to play?  I mean, if the famous Eisenhower Tree at Augusta National has been lost to ice damage, and that's down south, what kind of damage are we going to be looking at here in CT?
If old Punxsutawney Phil's prediction is correct, then we'll still be seeing snow well into March.  Heck, wasn't it just last year when we were still getting snow in April?  So who knows what to expect?!  All I know is, for one reason or another, my golf season gets started later and later every year.  I was hoping to put an end to that trend this season, but with no end in sight to the winter combined with the groundhogs input, it's anyone's guess as to whether or not that will actually happen.
So what to do?  Wait it out until the conditions are optimal?  This would be preferred.  Or do I head out to the course and play on a wet, muddy, sloppy course where my ball is going to get plugged after every iron shot and a divot as deep as the abyss will be left after each stroke?  I hate playing when the course is like this.  Not to mention, it does too much damage when the course probably has enough problems already.  Maybe I'll just take an early golf trip until conditions here are better suited for a round?  Now that sounds like a plan…if finances allow.
Swing 'til you're happy!