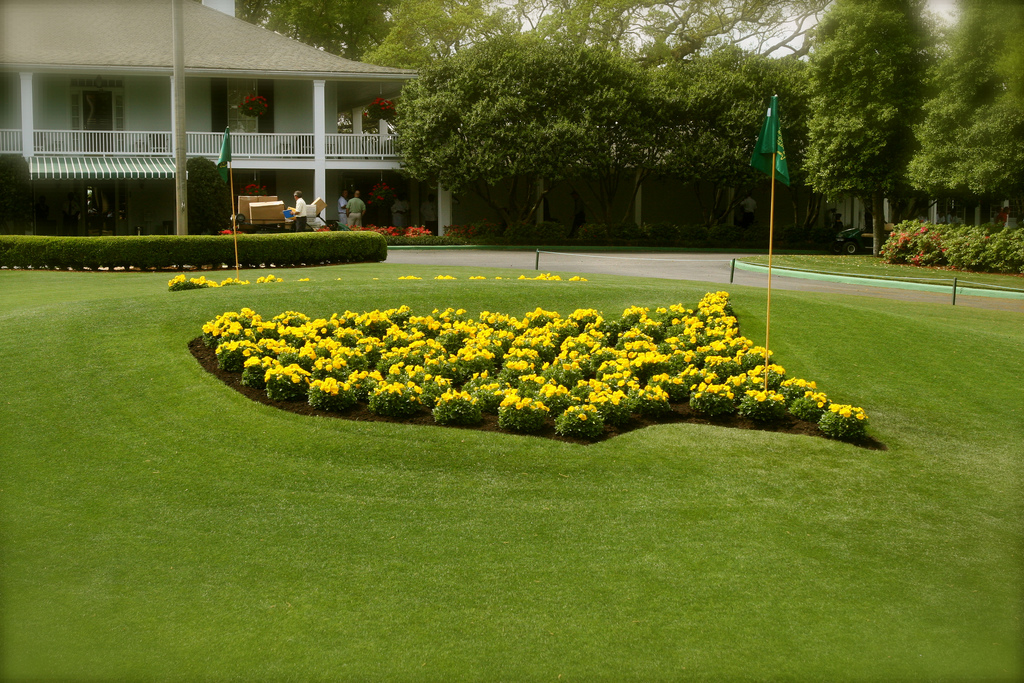 Augusta National Golf Club. The very name conjures up emotions deep within us. For some, those emotions might excite and inspire; while for others, they might sicken and disgust.
The Good
Augusta National is perhaps the epitome of golf courses. Despite not being in the birthplace of the game, the course is as symbolic as St. Andrews…perhaps more. We golfers daydream of walking its fairways; of turning Amen Corner; of being immersed in a golfer's total paradise.
Of course, the club hosts The Masters every April – a tournament rich in history. Marking the start of the golf season for many, The Masters sends us images of Augusta in full spring bloom – lush green grass and floral (mainly magnolias and azaleas) bursting full of color. It's no wonder there's a huge marketing push surrounding the tournament – golfers of all levels yearn to go out and play after viewing just a few minutes of the action. Surely the golf industry as a whole benefits through the publicity of such an inspiringly beautiful course.
The Bad
Make no mistake, the course really is in pretty good shape. But Augusta groundskeepers are working with smoke and mirrors too. For example, the course spent half a million on an underground vacuum system that removes excess water. And according to a post here, Augusta National…
"…reportedly dyes ponds blue or black to hide algae bloom, spray paints grass to make it look more green in years when the newly planted ryegrass isn't flourishing and even refrigerates, or warms, the azaleas so that they'll be in perfect bloom for the second weekend in April. Rumors have it that this year [referring to 2012] Hollywood set designers have been brought in to Augusta to hide damage caused by the lawn chemical weed killer Imprelis that was found last year to kill trees as a side effect."
Due to this addiction of perfect grooming (which apparently involves some degree of deception), we have something called the "Augusta Effect." The notion that every course should strive to be as impeccably maintained as Augusta National – and anything less is less than perfect. This notion has led to other courses overseeding to keep greener longer; led to more pesticide use within the industry; and ultimately led to courses going belly-up – all in an effort to meet the expectations of average hacks everywhere, who have come to expect conditions like those they view on TV.
The Ugly
Unlike the cradle of golf in Scotland, Augusta is no Mecca – You will not find golfers on a pilgrimage to these links like they flock to St. Andrews. This is, of course, because we are not allowed to play there. Augusta National Golf Club, hallowed as it may be, also represents everything that is wrong with golf. It is the very root of negative golf stereotypes: closed-doored, sexist and filthy rich.
Sure, the club recently allowed its first female members, but that gesture made for good PR more than anything else. So the USGA and PGA Tour are faced with a conundrum: On the one hand, Augusta National helps stoke the golf economy every spring. But on the other hand, the club flies in the face of what the governing bodies of golf want to do – which is to grow the game beyond the average white male. They want to reach more women and minorities. They want to reach more inner-city youth. But should Augusta really be their poster child? That's a tough sell.
For years I believed Augusta National Golf Club represented everything a golf course should be: Lush, beautiful and steeped in tradition – It really did make me want to go out and play. To be sure, seeing images of the course this week will inspire me once again. But over the years, I've come to realize the industry is using the Augusta legacy as a marketing tool – a facade, which exists mainly to excite the imagination.
Nowadays my inspiration doesn't come from Augusta, but rather from the beginning of a new golf season – the excitement of getting out there and playing again after a long, cold winter and the thought of hanging out with good friends while enjoying the game we love. And, I guess, the possibility of finally hitting that elusive hole-in-one.
So my advice to you is to enjoy the tournament; the competition; the phenomenal golf. But take all the pomp and circumstance with a grain of salt. After all – most of us golf in the real world; not in fantasy land.