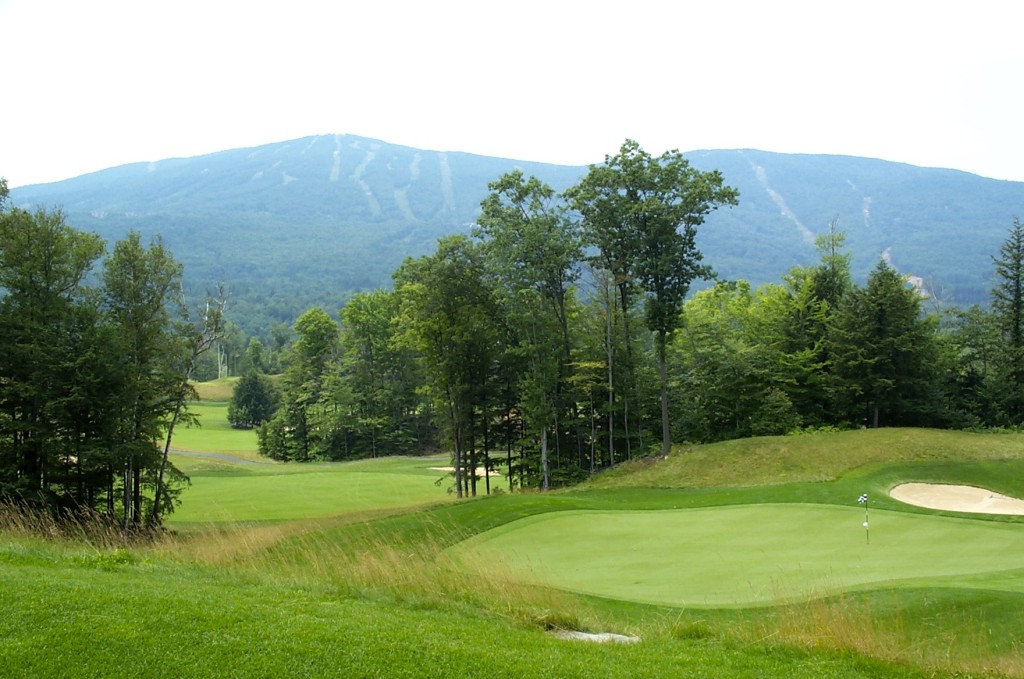 As we push into late December, I'm constantly reminded (via radio, TV and billboard advertisements) that besides being the holiday season, it's also skiing season. Here in New England, the prime ski location is Vermont – and one such ski mecca in the Green Mountain State is a place called Okemo.
Okemo's advertisements are everywhere – images of snowboarders getting major air on a halfpipe or a family of four gliding cheerfully down a picturesque slope. But this excitement conjures up nada in me. Nope, when I hear the name "Okemo" I immediately think summertime and envision one of the top golf courses in Vermont.
In case you haven't guessed, I'm not a skier. I've never been skiing and have never really had any desire to attempt it. But the irony is, I've been to some awesome ski resorts. Let's take Okemo as an example – what was once a name only recognizable by skiers, now boasts several accolades…for golf:
Best Public Course in Vermont, 2006 Golfweek
Top 50 Courses in America, 2003 Golf For Women
Top Modern Club in Vermont, Golfweek
Best New Course in America nominee, Golf Digest
When you think about it, it makes sense to put a golf course at a ski resort. But what's interesting is golfing at ski resorts is a relatively new phenomenon. According to the April/May 2011 edition of Cigar Aficionado, turning a ski resort into a year-round attraction is big business – for both the resort and the surrounding towns:
All of the big ski resort operators such as Intrawest, Aspen Skiing Co., Vail Resorts and Boyne Resorts, along with many smaller peers, have turned their focus from selling lift tickets to selling real estate. To do this, they have had to offer more than just skiing. The new mountain town mantra is "lifestyle," and for more than a decade, once sleepy or even chichi ski towns have been busy repositioning themselves as year-round centers of sport and culture, building performing arts centers, sushi bars, bike trails, village centers, parks, ziplines and, most of all, golf courses.
To me this is extremely smart. Not just because of the obvious (that you can stay open year-round), but because I feel golfers and skiers are cut from a different cloth. Sure there may be some overlap, but for the most part, skiers are adventurers, while golfers are more pragmatic. Economically, this is a brilliant marriage, because the ski resort is not only reaching more people, but also reaching different types of people.
But the golfers have it slightly better (as the Cigar Aficionado article acknowledges):
[Ski towns] are famous around the globe and synonymous with luxury vacation hospitality, but even in ski season, most of their appeal and most of the time spent by visitors is off the slopes. All of these ancillary benefits, from fine dining to five-star lodging, can still be enjoyed in golf season, though without the crowds—and usually at much more reasonable prices.
And this is true – my experience playing at ski resort courses has always been great golf, at a great price, in a relaxed and quite atmosphere. Of course, as more people begin realizing these ski resort golf courses are out there, the more busy they will become.
But for now, the fact that these places have two very distinct atmospheres (depending on when you visit) will remain intact. For example, when you click on Okemo's website during the winter, you don't even realize they have a golf course! It's as if they're marketing department has recognized the two clientele are complete opposites.
Click on that same URL in the summer, and the golf course takes center stage. I've actually had conversations with skiers who mention Okemo and I'll say something like "Oh, I love Okemo!" And they'll look at me rather puzzled – they'll ask: "I thought you didn't ski?"
I guess the marketing is working.