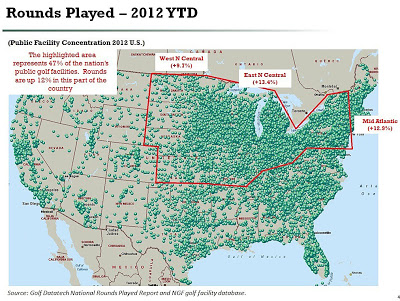 The recession we've experienced over the last few years has been tough – The job market is terrible; real estate prices are wretched; and progress has been, well…slow. But apparently, more people have been hitting the links this year!
According to a recent report from the National Golf Foundation (NGF):
"The big story of 2012 in the golf business is the year over year increase in rounds played. In fact, if fourth quarter rounds are flat with the same period in 2011, we would end the year with the largest single-year jump since the turn of the century; a national gain of more than 30 million rounds."
This surprised me, considering the tough times we've been living in. Personally, my number of rounds played has also gone up this season, but that was to be expected after a couple of golf-limiting events in 2011: A new addition to the family and my battle with a foot ailment.
Though I was playing more, I suspected many were not. So I was extremely pleased to see that things seem to be improving within the golf industry – at least as far as the number of rounds played is concerned.
Golf has certainly not been immune to the recent economic woes – NGF notes that golf rounds played has declined around 11% over the past decade, bottoming out in 2009 (the height of the recession). But the good news is the numbers from 2012 appear to show nearly half of what was lost might be recovered.
NGF attributes some of this to the weather, in which 2012 saw an 8% increase in "playable days" compared to 2011. But it also credited the general increase in spending in the U.S., which seems to have roughly paralleled the increase in golf rounds.
So more people are playing golf – great! But what about the rest of the industry? Not surprisingly, course operators have seen an increase in revenue this year. But new course development is still at "historic lows and that should continue for the foreseeable future." Meanwhile, golf equipment sales are progressing slowly – but progressing nonetheless (still below pre-recession levels).
NGF points out that as we continue to emerge from the recession, so too should we see a general improvement in all things golf-related. But one has to wonder, with Tiger a cub of his former self and no real face to the PGA tour, will the golf industry ever reach its pre-recession hay day – even in a thriving economy?
Related Posts: The Economics of Golf