According to a recent report from the NGF (National Golf Foundation), new golf course openings are at "historic lows," while course closures continue to pile up. While many will take this as a negative sign within the industry, perhaps we should look at it from a different angle?
Here's a breakdown of golf course openings and closures last year: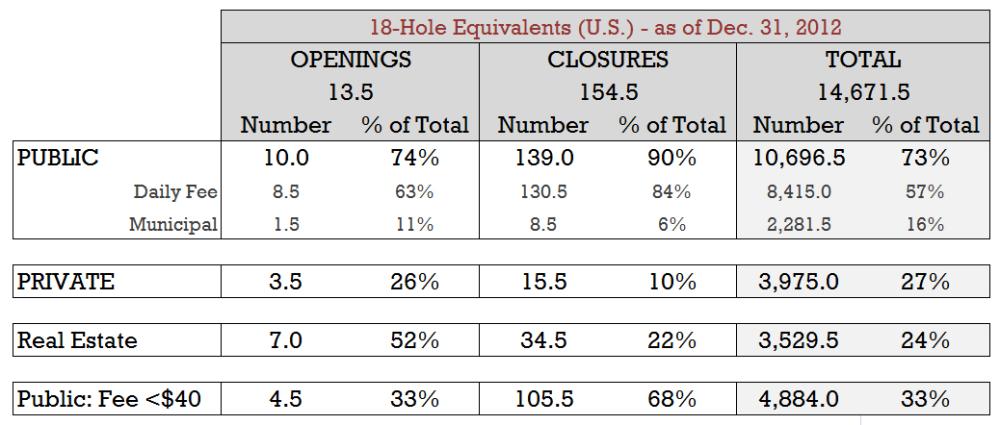 So what does the above graphic tell us? Well, that in 2012, only 13.5 18-hole facilities opened compared to 154.5 that closed. But beyond that, it tells us that the closures mostly stemmed from Daily Fee and Muni-type courses (90%). And of those, nearly 70 percent had greens fees under $40.
So what?
Well, this means lower-end courses are the ones folding. While that may not bode too well for your particular community, it might be a good sign for golf as a whole. Courses offering 18-holes of golf for under $40, at least in my area, are typically not the most well-maintained tracts of land around; there are usually waits on multiple tee boxes; and inevitably end up becoming training grounds for newbie golfers (hence the backups on the course – not from overuse, but instead from slow play).
Let me be clear here: Not every 18-hole facility with greens fees under $40 fits my description above – but, it is extremely difficult to operate a respectable 18-hole course in today's economy…especially for under $40 per round. Thus the ones that are run the risk of being understaffed and in disrepair (prime candidates to buckle under tough economic times).
Now, there's nothing wrong with learning the game at an inexpensive course, but perhaps a full-sized 18-hole facility isn't the best place? There are many decent and inexpensive "9-hole" or "par 3" or "executive" courses out there (which are excluded from the graphic above) that offer a wonderful learning opportunity for newbies. This is where you need to go if you are transitioning from the driving range to the course.
No one asked for this economy, but the reality is we have it. And perhaps the 150+ courses that closed last year will ultimately benefit the golf industry as a whole. Because what we are left with is survival of the fittest. The better 18-hole facilities will remain – and that bodes well for when those golf newbies are ready to make the transition from a 9-hole or executive course to a bigger facility. They will not be disappointed with what they find – rather they will get to experience the best golf has to offer.
And if that happens, then you will have golfers for life.