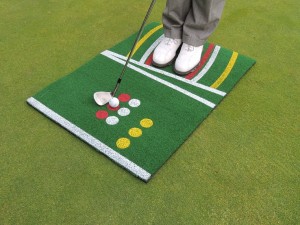 Without a doubt, the weakest parts of my game are my chips around the green and my shots out of the green-side bunkers.  No matter how much I concentrate, how many times I try or how much I practice, I stink around the green.  Every once in a while I get it right.  But usually, I either hit it weak so it doesn't reach the green, launch it through the green to the fringe/rough on the other side or, if I do manage to keep it on the green, it's nowhere near where it should be.
Not being a professional golfer, I simply don't have a lot of time to work on my game.  I get to the range once in a while.  Over the winter, I'll make it to the indoor facility once or twice.  But that's about all of the practice I get.  Every other opportunity is spent on the course.  But we may have come across something that can actually help – the Perfect Pitch Golf Mat.
The Perfect Pitch Mat is a portable golf mat designed to help with your chips, pitches, sand and flop shots.  By using a series of curved and straight lines as well as ball placement markers, the mat helps teach you the correct way to set your feet as far as stance and distance to stand from the ball.  But it's not just a mat on which you stand and aimlessly chip your ball around.  A helpful instruction guide explains where your feet should be in relation to the configuration of lines.  Additionally, the guide also helps to explain the characteristics of each swing with info such as weight distribution, where your hands should be in relation to the ball and the extent of your backswing.  It's a nice little guide that can be especially helpful to high-handicappers such as myself.
But, it's not just the guide and what the mat itself teaches you.  Part of the draw of this mat is it's portability and convenience.  You can literally use it just about anywhere.  Out in the yard, in the living room, in the garage…I'm even thinking about bringing it to my new office at work!
However, as nice as the mat is, it's not without it's drawbacks.  For starters, the price.  Like most golf equipment, the price seems to be a bit inflated.  $64.95 seems to me to be a bit steep for, essentially, a golf mat.  However, that is also purely opinion.  If the mat helps the way it's supposed to, then $65 may be well worth it.  But drawback #2 may be insurmountable for many golfers.  Well, all left-handed golfers really.  There currently is no left-handed version of this mat available.  Hopefully that's something they'll consider in the near future.
All around though, I think the Perfect Pitch Golf Mat is a convenient, helpful tool for those of us who struggle with our short games.  And guess what –  as usual, we at golfstinks.com are not going to keep everything to ourselves.  Anyone interested in taking one home can simply head over to our Facebook page and give this post a like for your chance to win your very own Perfect Pitch Golf Mat.  With any luck, one lucky winner and I can improve our short games in time for next year!
Swing 'til you're happy!