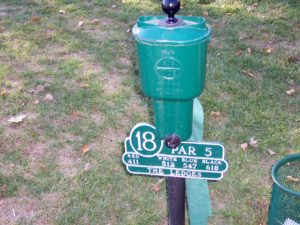 Would you rather play 9 holes or 18 holes? It seems like a rather silly question – after all, wouldn't you want to play more golf instead of less? Wouldn't you rather play for a longer period of time instead of a shorter one?
When I first pondered the question of today's poll, I thought my answer was obvious: I'd rather play 18. Playing 9 holes leaves me feeling like I didn't finish the round. And while I've played 9 holes each of the times I've played this year, it was entirely due to the time constraints of having a newborn (and a toddler) at home. But you know what? When I finished my rounds, I was less tired; less sore; and still had most of the day ahead of me (and saved some money to boot).
So that being said, are there people out there who prefer only playing 9? If you consider golf's history, many early courses in Scotland had only 5 holes (and later just 7 holes). So it seems golf was originally intended to be played in less time. And by today's standards, the time it takes to play an average 9-hole round (2 – 2.5 hours) is much more on par with the length of other modern sporting events.
In addition, recent research shows golfers playing only 9 holes is on the rise – be it to save time, money or both. If the industry can successfully market a 9-hole round to the general golf population (e.g. convince people it's still cool to only play 9), we might see the game grow exponentially (both from a participant standpoint and a financial one).
But in the meantime, I'd like to know what you prefer playing – 9 or 18?

Loading ...