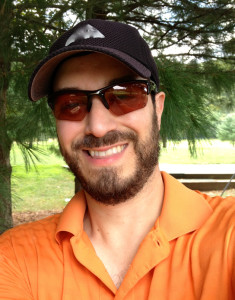 I spent 15 years playing golf without sunglasses. Why? Well, I'm not really sure – I hadn't really given it much thought. I tend to be one of those people who have to be told the obvious sometimes.
Like when my friend and golfing buddy pointed out that he was surprised I didn't wear sunglasses since I had blue eyes. He claimed that lighter eyes needed more protection from the sun. While I'm not sure how accurate that statement is, it sounded plausible and anything to help the old golf game was worth a shot. And so, sunglasses became a constant accessory of mine out on the links.
At first, I purchased a pair of $50 sport-sunglasses and wore them for a few years until they got a scratch on the lens. I tried to keep wearing them, but seeing that annoying scratch in my peripheral vision was keeping me from tracking the ball's flight path.
After discarding my scratched pair, I bought inexpensive sunglasses from a stand at a highway rest stop. Don't laugh, those actually lasted several years (though I did feel they weren't quite as effective on the golf course). Flash-forward to about a year and a half ago, when I actually received (via a promotion through this golf blog) a free pair of off brand sunglasses that were polarized – a feature specifically geared toward golfers. And while these glasses were better at helping me track and see the ball in the fairway, they weren't the highest quality shades out there.
Still on the hunt for the perfect pair of golf sunglasses, I was excited when someone from Ads Sports Eyewear reached out to me regarding their latest promotion featuring Oakley Sunglasses and Prescription Oakley Sunglasses. After all, Oakley is a popular brand not just for pro golfers, but for all pro athletes in any sport.
Long story short, I was sent a pair of Oakley Half Jacket 2.0 – Polished Rootbeer XL G30 Transitions Lenses (a mouthful, I know). But there are a few things golfers should take note of in that lengthy name: First, they are the Half Jacket – which is somewhat smaller than the "Jacket" line Oakley offers. I found this a plus during my back swing, since there is an unobstructed bottom side view.
Next, the lenses are extra large (hence the "XL") – meaning despite the smaller frame, you still get full-lens coverage. In addition, the lenses normally have about a 30% light transmission, which is helpful when hitting from shady areas (like from the woods, if you drive the ball like I do). But in full sunlight (like say on the fairway), the lenses will transition to about 16% light transmission – it adjusts automatically so you're only left with the best possible view of the fairway, green, pin and/or ball flight path.
Finally, the lenses have a rose tint (you macho guys stay with me here). While it took me a second to adjust to this hue, it really was helpful in providing contrast on the course. For example, it allowed me to read the green better for putts and pitch shots.
Overall, these are the best sunglasses I've ever worn for golf (see photo of me wearing the glasses at top). They are feather light – I literally couldn't feel them once they were on – and the lenses are a perfect combination of light filtering and view enhancement – specifically designed for the golf course. The only complaint was from my wife, who doesn't particularly like the sport sunglass style in general. But that's not what these babies are about – they're about helping you perform better on the golf course…period.
Now these shades aren't cheap, but you know the old saying; you get what you pay for. Of course, I didn't pay anything. And on that note, why should I get to have all the fun? As our fans know, we here at GolfStinks go to great lengths to ensure they too can benefit from our product reviews. As such, the good folks over at Adseyewear agreed to provide a $150USD gift certificate to one lucky GolfStinks fan towards the purchase of your own sweet golf sunglasses on adseyewear.com!
Here's how to enter: Go to the GolfStinks Facebook page (facebook.com/golfstinks) and comment on the post on our wall entitled "Win the Perfect Golf Sunglasses" (it would help if you provide a good reason as to why you need new golf sunglasses)! That's it! We'll choose one winner a week later!
Good luck!