What is one of the most important factors that directly affects our golf game or any other activity for that matter? If you said vision, congratulations you are 100% correct! In the literal and figurative sense, vision is a much needed tool to enjoying our round, obviously. So why do we take it for granted? I'm willing to bet most of us hacks never think about how important it is to see clearly while chopping up the local track.
Whether we are a 30 handicap or scratch golfer, correcting our vision and properly protecting our eyes is vital to a long and happy golf career. How do I do that you ask? Enter SportRx.com. SportRx is a  company geared towards creating, promoting and delivering the proper prescription or non-prescription eye-wear customized to our lifestyle and activities.
Recently, we connected with Rob and Stephanie at SportRx.com and after a consultation they graciously sent out a pair of the Adidas TourPro sunglasses to review. Let me also add that they have 6 opticians on staff each specializing in their respective activities from golf and cycling to skydiving and motocross. Pretty cool , right?
So, let's get to the glasses! In order to give these a thorough review I hit the driving range and followed that up with a round at a nearby course. There's 3 categories I feel important when it comes to golf sunglasses; fit, performance and value. Here goes…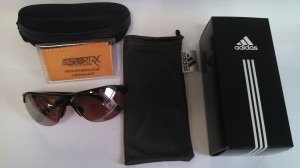 Fit – Upon opening the box, the first things I noticed were the weight and quality of the craftsmanship. Very light and very well made.  A couple key comfort features are the double snap nose for adjusting the nose bridge and the tri-fit temple hinge for a more custom fit. You can check the video of Rob demoing them here.
Performance – After wearing them for a few hours I actually almost forgot they were even on! The wrap around lenses did a great job in keeping my field of vision even especially when it came to tracking the ball flight.  The LST Active lens Adidas uses enhanced any contrasts and really helped with depth perception. Normally, I'm a fan of polarized lenses but these really impressed me with their clarity and brightness.
Value – Worth the money! Between the overall quality and performance plus the value added services SportRx.com provides, it's definitely a wise investment no matter what level you play at.
So, how do you get your own pair of prescription sunglasses from SportRX.com for free? Glad you asked! Just head on over to our Facebook page, find the post entitled "Win a new pair of prescription sunglasses!" and tell us why you deserve them in the comments – that's it! We'll choose a winner next week.
Hit 'em Long…Yell FORE…See the Ball!