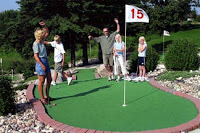 I was watching a cartoon with my 2-year-old the other day (Handy Manny, for those of you with toddlers) and the episode was about going to a miniature golf course. In the middle of the story, the guy who runs the course comes out and starts giving putting lessons, while another character refers to him as an "expert golf instructor."
Now I realize this is only a cartoon, but at what point did mini course owners become expert golf instructors? I mean, miniature golf isn't real golf, right? There's really no skill involved and you can't teach luck (can you)? Let's face it, an expert golf instructor who works at a mini course is laughable, but to the writers of the show, it seemed totally plausible.
Anyway, let's forget about the cartoon and look at this from an adult perspective: The reality is many people are only exposed to golf through a miniature course. Perhaps their parents took them as a kid or perhaps they went on a first date – whatever. But to them, mini golf is golf.
Sure, these people are vaguely aware of a much larger version of the game played by old folks, but this is as far from reality as science fiction is to them. Don't believe me? Ask a non-golfer if they've ever played golf. You will undoubtedly hear the following response: "I've played mini golf!"
I think we golfers forget sometimes that many others have no true grasp of real golf. Now don't get me wrong, I'm not trying to knock miniature golf – it certainly is a fun game. What I'm trying to do is show that many people don't realize how completely different mini golf and regular golf really are.
For example, do they realize that mini golf is only one aspect (putting) of regular golf? And do they realize that the putting they are doing is completely different than the putting we do? I mean, a good mini golf putting stroke isn't going to translate out on the greens of your local 18-hole, 7,000-yard course, is it?
Well, at least that cartoon was trying to incorporate the game of golf in some manner and kudos for them doing so. But can you imagine if regular golf was more like its Mini Me version? You show up to pay your greens fees and they hand you a bag of clubs and a dozen balls! And all the water hazards are painted blue instead of having real water! Now that I could get used to. Putting into a clown's mouth on the 18th? Not so much.