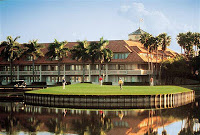 Undoubtedly, one of a golfers favorite events of his golfing career is a golf trip with his buddies.  For too many of us, it's an event that just doesn't happen often enough, including for us here at Golfstinks.  But this past weekend, we finally made it back out on the road. 
OK, so we didn't head to one of the typical golf getaways like Florida, California or Myrtle Beach.  Rather, we headed to Vermont.  Not exactly what most golfers would consider a "golfing mecca." But that's far from the point. 
See, the point is the getaway itself.  And between kids, wives, jobs, vacation time and previous commitments, trying to get a few guys on the same schedule is not the simplest of tasks.  So when taking a long vacation is not a possibility, simpler trips become necessity.
Necessity you say?  Well…yeah!  To me, a golf trip with your golfing pals is an absolute necessity.  The idea of traveling to a place you've never been to hit the links on a course you would normally never get to play is fun in itself.  But when you can combine a vacation with your friends and a few days worth of golf, it's like taking that one day of golf you would play on a Saturday or Sunday that you wish would last longer, and stretching it out over a few days.  How could you go wrong?
Unfortunately, most people have the preconceived notion that a golf trip is too expensive.  But a bit of research and some planning at the right times can lead to some unbeatable deals.  For instance, our trip including 2 rounds of golf and two nights at a condo ran us well under $300 per person. 
What I'm getting at here is that a golf trip needs to be taken by any group of golfing friends.  Put just a little bit of effort in and an inexpensive golf trip could be much closer than expected.  If you've never taken a golf trip, or if it's been a long time since you have, you're doing yourself a disservice.  It's time to hit the road, jump on a plane, do whatever!  Just get out there an go somewhere you've never been.
Swing 'til you're happy!