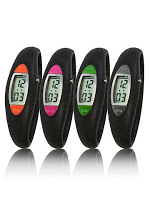 As always, we are on the look out for interesting stuff that is golf related. With that in mind, we want to thank the great bunch of folks over at ScoreBand for hooking us up with their new score keeper watch. So what is this watch I speak of? Well, for starters it won Best Product Concept at the PGA Merchandise Show presented by the United Inventors Association. Not too shabby.

I do have to say that when I received this watch I was impressed with the quality. I've had another similar watch that definitely wasn't up to par (pun intended) with this one. Also, after wearing it all week I can appreciate the light weight.
What about the score keeping? Glad you asked! There is an "Allscore" mode, which lets you keep track of just about any score and it just so happened to come in handy during a recent indoor soccer game. There's the "Golf" mode which keeps track of your hole and round score and, might I add, was a hell of a lot easier than imagined. Finally, the "Tennis" mode. Although I have yet to use this function in a match, I still played with the buttons in tennis mode and just as expected, it was very easy.
My advice to you is to grab one of these. They make great gifts too! Speaking of gifts, it wouldn't be right if we reviewed something and didn't offer a chance to win a free one. So…
Just head on over to our Facebook page and simply "Like" the post on our wall entitled; "Enter to win a FREE ScoreBand!" That's it – we'll pick one lucky winner at random!
Hit 'em long…yell FORE!!! Good Luck.