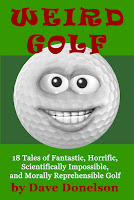 I was intrigued when Dave Donelson emailed me to review his "fantastic, horrific, scientifically impossible and morally reprehensible" novel about golf.
A golf writer by trade, Mr. Donelson has strung together 18 short stories that engross you in mystery, suspense, comedy and a touch of horror.
Mr. Donelson is obviously an avid golfer – his tales, while tall, are written with such familiarity of golf course antics, you begin to believe what you are reading.
And what you read is somewhat comical, somewhat frightening and somewhat candid all wrapped in one. For example, his hilarious portrait of Superman and Batman playing a competitive round together is both ridiculous, yet believable at the same time.
His creepy tales of golf course ghosts and night crawlers (such as in "Bald Peter's Pond" and "Night Putting") leave you feeling a bit unnerved. While other stories such as "By The Rules" and "Choker" take typical golfer frustrations to near homicidal levels.
Meanwhile, Mr. Donelson throws-in what seems to be his own candid opinions of golf in "A Not-So-Brief History Of Golf Time" and "Three Club Wind" – both of which, if you really stop to think about what he is saying, make a ton of sense!
Each story is unique but shares a common thread: Things aren't what they seem! You'll surely think about this book the next time you golf after a full moon and you'll definitely think twice before hassling that foursome of ladies ahead of you.
Weird Golf is a great book for your mystery novel-loving dad this Father's Day. And if you're a golfer that's at all interested in the supernatural, Weird Golf is for you. A bit fantastical? Yes. A rollicking read? Absolutely.
For more about Weird Golf or to purchase the book, please go to http://www.weirdgolf.net/.