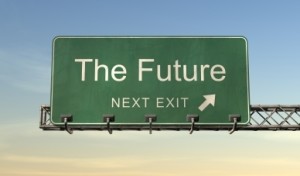 The game of golf is in a period of transition – that much we are sure of. Reports show participation is down, courses are struggling (if not closing their doors altogether) and retail sales are lagging.
While some golf authorities are remaining calm, attributing the current climate to market correction after years of industry overgrowth, many others believe it will take significant change to right the ship.
Those worried over what they see as obvious signs of golf's forthcoming demise are scrambling to find fixes. But what are we fixing? Well, that's a rather broad topic – golf is too hard; too slow; too expensive. While solutions have been proposed for all of these issues, many of these fixes change the game somewhat.
The reality is, if some of these ideas catch on, golf as we know it today might be totally different in just a quarter century from now. Imagine you've been transported 25 years into the future…to the year 2040. Here's what your round of golf might be like…
You step-out onto the first tee at 9 o'clock…at night. It seems the idea behind TopGolf spills-out to the actual course. Behind you is a fully-stocked bar teaming with patrons. You place your beer in a cup-holder next to the ball-washer and approach the glow-in-the-dark tee markers. You tee-up (both ball and tee are also glowing) and drive the ball towards a giant illuminated target in the middle of the fairway – the bulls-eye being the 150-yard marker.

It's easy to follow the flightpath of your approach shot as it careens through the air like a shooting star towards the green, the flagstick and flag lit-up like a tree on Christmas. You pull-out your putter and promptly drain a 40-foot putt for birdie. Of course, the hole is 20 inches in diameter (HackGolf's original 15-inch cup idea is adapted for nighttime).

Hole #2 is a par 3 with a pond and trap flanking the green and a portable bar flanking the tee-box. There's also the closest-to-the-pin contest going on, where the winner from your foursome gets a free shot from the bar and the overall winner for the evening gets three free rounds of golf (it's not uncommon for the ball closest-to-the pin to actually be in the hole, and thus have several overall winners for the evening).

Hole #3, a par 5, features the obvious long-drive contest, where prizes range from free drinks to free golf depending on how far you can hit it. Each level is conveniently marked in the fairway: 300-325 yards has grass glowing red; 325-350 the grass glows blue; and 350-375 glows yellow (both free rounds and drinks beyond that). If you think these distances seem a bit far for average golfers, it's only because no one abides by the USGA rulebook anymore…so using non-conforming equipment (balls, clubs, etc.) is the norm.

Walking off the 3rd green takes you back to the bar/clubhouse area, where you're free to join the merriment on the dance floor or make the turn to play the back 3 holes. Yes, most new golf courses by 2040 are only 6 holes long. With less to maintain, courses can lower prices while still raking-in boatloads of cash from the main bar, plus the three additional portable bars out on the course.

Those golfers still wishing to play during the day can do so, albeit without the cool glow-in-the-dark effect. Plus, plenty of kids are being introduced to the game as it's not uncommon for parents to rent-out a course for birthday parties, etc. And daytime is also when the course is used by FootGolf enthusiasts – a game that has gotten extremely popular by 2040.

In addition to the lower greens fees, the time it takes to play has been drastically reduced as well. No more wife or hubby ranting about you being gone all day. Instead, a 6-hole round takes 90 minutes (give or take your time at the bars). And rarely are there backups on the tee – with the holes being so big and the equipment being so forgiving, most average golfers have single-digit handicaps in the future.
OK, let's time machine back to the year 2015 and think about what we just read. Sure, I took some liberties in illustrating golf's future, but am I really that far off? Regardless if the current economic woes of the game dissipate on their own, we're going to see some changes. TopGolf, HackGolf and even a rulebook for recreational golfers already exist in the here and now. Not to mention non-conforming equipment that corrects your slice and allows you to hit it farther are also already on the market. Plus, the idea of creating golf courses with less than 18 holes isn't a new idea either.
This all being said, I don't think I would mind a future that looked similar to what I imagined above. I may opt for less night rounds and expand the courses to 12 holes instead of 6, but I think a new rulebook for average golfers, bigger holes and non-conforming equipment can make the game more fun for recreational players (not-to-mention more profitable for courses and the industry as a whole).
Whether this comes from glow-in-the-dark night rounds; incorporating a bar/club atmosphere; making the game easier for average hacks; or something else entirely, the bottom line is golf has to change with the times. I think one thing is clear – there is a vast gap between serious golfers (and that small percentage of players who are talented enough to be pros) and the rest of us. It's high time we start playing a different game of golf.