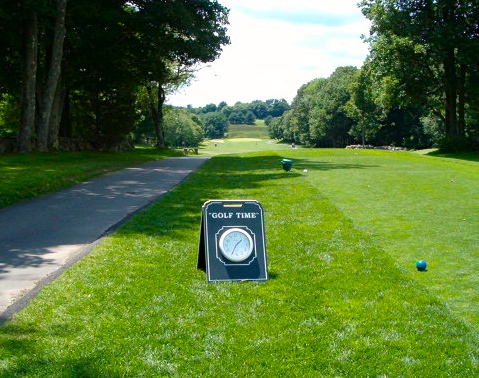 Recently, long-time golf blogger and all-around good guy Ryan Ballengee made an intriguing statement on his site Golf News Net: "Want to improve golf's pace of play problem? Charge by the hour."
Pointing to the game's slow play problem and the ever-increasing time it takes to finish a round of golf, Mr. Ballengee stated:
"You know what will speed up play? Attaching a dollar value to time spent on the course. […Courses] should charge an hourly rental fee. It can be structured around the quality of the course, time of day you're playing and the expected average time to play the course at that time of day."
So if it's currently taking 5 hours to play 18 holes, then the price can be set at say $8/hour. Whereas if it's taking just 4 hours, the hourly rate might be $10. In either case, you're paying $40 to play 18. The catch is hoping foursomes pick-up the pace to get through in less time, thus saving the players money and keeping the pace of play swift. Another example would be charging $8/hour when the course is playing slow (say 6-hour rounds) and $15 when it's playing in 4-hours. In that scenario, would it be worth it for some people to pay $12 more to finish two hours earlier?
Getting more complex, Mr. Ballengee suggests courses could create dynamic pricing – that is pricing that fluctuates depending on a number of variables including pace of play, weather, tee-time availability, etc. He even floats an option that the price could change mid-round to give "some incentive to a snail's pace group to get moving."
While all this sounds plausible, Mr. Ballengee says it's not that simple: "One group could still ruin everything by lollygagging their way around the links." To combat this, he recommends a time ceiling should be set…say 6 hours. If a group is out there for more than 6 hours, they should be (after a warning or two) asked to leave.
This is where I'm left wondering if this idea could really work. I mean, kicking the slow group off the course might take care of the immediate problem, but to me it's a short-term gain, long-term loss. Those guys won't be back…ever. And maybe 3 of the 4 weren't even the problem. Maybe they were paired-up with a slow-poke. Is it fair to get kicked off just because you got stuck playing with a snail (or a newbie who might even quit the game after such an experience)?
In addition, who wants to play with the added pressure of being on the clock? We've proposed a shot clock in golf before, but that was for the pro tour…not for the recreational golfer. Look, I play golf to relax and have fun. The thought of some ranger driving up with a Square payment system on his iPhone to swipe my credit card because I just hit the 5-hour mark but only paid for 4, kinda rubs me the wrong way, you know?
But in any event, Mr. Ballengee has at least thrown-in his proverbial two-cents on how to solve the problem of slow play. And to be completely honest, I think this is one of the more feasible (albeit still somewhat flawed) proposals I've heard thus far. What are your thoughts on this "pay by the hour" solution? The poll and comments section are at your disposal…

Loading ...