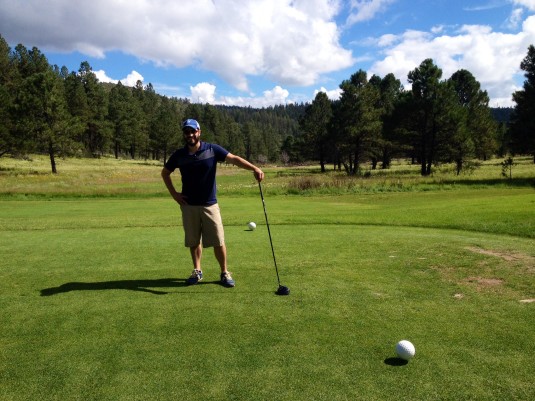 The state of New Mexico continues to wow me when it comes to its golf courses. One of my all time favorites is Paa-Ko Ridge between Albuquerque and Santa Fe. And now I've just discovered another gem in the southeastern part of the state.
Just outside the mountain town of Ruidoso on the Mescalero Apache reservation sits Inn of the Mountain Gods Resort & Casino. The resort features a championship course that is groomed to perfection and stretches 7,200 yards from the tips. But the course's finest feature is its scenery: Tall pines, wild flowers, rugged mountains and a crystal blue lake please your senses on nearly every hole.
The cool, mountain air allows for a very comfortable round and if you're lucky, you might spy elk or deer roaming the fairways. Teeing it up in New Mexico allows me to really appreciate why I golf, even though I'm not very good at it. Being out in this landscape; breathing in the fresh air; gazing upon inspiring scenery – there were at least two moments during my round at Inn of the Mountain Gods where I paused to take it all in – there's something very spiritual about it all.
Beyond my experience on the course, I stayed two nights in the resort hotel too. The hospitality was fantastic and the room was very comfy. And September is a good time to go – the summer tourists are gone and the ski crowd won't arrive for another few months. As a result, the course and the hotel aren't over-crowded and off-season rates are in effect. There's also good food at the resort, along with ample gambling.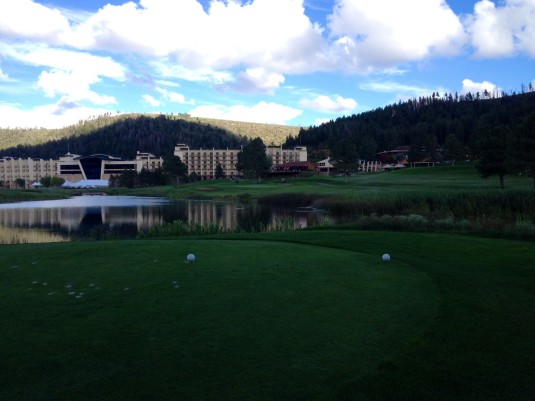 But the nearby town of Ruidoso is fairly touristy too, with decent shops and restaurants. And not too far is White Sands National Monument – a place that is truly amazing. Inn of the Mountain Gods is yet another reason I rank New Mexico as one of the best places to golf in the U.S.
If you're planning a golf getaway or are just passing through, do not pass up the chance to play golf in this state. The prices are very reasonable; New Mexican food is amazing; and the scenery is simply unbelievable. Play there and enjoy.