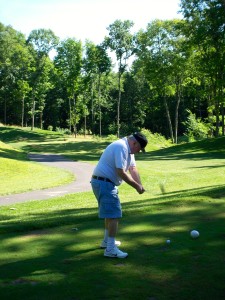 I don't really play executive (or par 3) courses. In fact, the last time I played one, it was 2007. I've been pretty forthcoming in the past about these length-challenged courses (see HERE), but perhaps I've sold them a little short (pardon the pun).
In these tough economic times and (perhaps more importantly) with slow play alarmingly rampant, perhaps we should revisit the idea of sneaking in a few rounds per year on a par-27 (or par-32) course. After all, they are cheaper to play and your round goes much faster.
Yet when I recently learned one of the nicer courses near me was all booked for the weekend, I declined their offer to play their new executive course instead. What gives?
Well, not being able to use your driver still bothers me. And even though par 3's play into my strengths, I feel there still needs to be a nice mix of holes (especially with some par 5's mixed in).
But I want to know what you think – and to that end, we have two polls for you below. First, tell us how often you play executive-style courses and then, tell us if you would be interested in playing them more frequently.
Hey, maybe we can kill two birds (slow play and price) with one stone here.

Loading ...

Loading ...