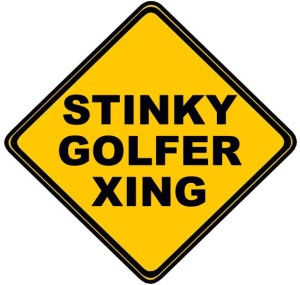 Statistically, my average score has stayed pretty much the same over the past 20 years. Why? Because I'm consistently inconsistent. The problem of inconsistency afflicts nearly every golf hack out there and as a result, we don't really improve our games much – at least not without a good amount of practice and/or lessons.
My handicap has been around an 18 since I started keeping track back in the mid-90's. Sure I may have a decent round every once in a while, but I'll still have a wretched round thrown in there too.
Many times, I'm inconsistent within a round! Take this past Saturday for example; I parred 3 holes on the front but also took two 9's! Two of them!! I finished with a 52. Meanwhile, I caught fire on the back – parring 3 more holes and even dropping a 20-foot putt for bird! And no nines (or 8's) either!  So I shot 42 on the back, which made a 94 for the full 18-hole round. Which, when you think about it, is pretty in-line with my 18 handicap. You see? I'm consistently inconsistent.
Typically during a round, one part of my game is "on" while another part is "off." Today I can putt but not drive. Tomorrow I can hit it off the tee but my chipping has gone to hell…It seems like I can never put it all together. Saturday, my irons were terrible on the front but then "something" happened and they improved on the back – leading to my 42. That "something" is a frustrating anomaly better left to discuss on another day.
How about this: You hit an awesome drive (best one of the round) only to flub your shot from the fairway. Happens to me all the time – especially on par 5's where I need a good drive to put me in good position to make the green in regulation. Of course, instead of that happening, my inconsistency causes me to knock my second shot down ultimately leading to a double-bogey seven.
What also kills me is the inconsistency of the same shot back-to-back. Let's say you hit one off the tee OB and decide to hit another. Nine times out of ten, that second shot will be straight down the middle. Why couldn't you have done that the first time?!? This is why golfers invented the Mulligan.
So, we average golfers are consistently inconsistent. But what are we going to do about it?
Well, unless you're ready to practice 10 hours a week and/or plunk-down tons of cash on lessons from a pro, there's probably not much you can do about it. Gimmicks and gadgets don't work; books and magazine articles are helpful but not really practical when you have to translate the lesson on the page to your swing on the course; and buying new equipment rarely solves anything (unless your clubs are actually falling apart).
So where does that leave us? Well, for many of us (who have jobs, families and other responsibilities) it leaves us right back where we started: Being consistently inconsistent. But that's OK! If we've said it once, we've said it 1,000 times – Golf isn't just about playing well (if that were the case, most of us would have quit a long time ago).
It's also about camaraderie; being out in nature; taking the time to do something you love! If you happen to play well that day, fantastic! If not – will you regret playing at all? Of course not. Chances are even if you did play wretchedly, there was something positive you will remember – a long putt perhaps, or a great drive? Consistently inconsistent or not, I love playing this game.
And that's all that really matters.