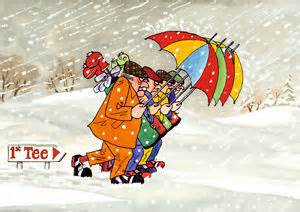 One of my favorite things about playing golf is the variety of the courses.  It's not like other sports in that sense.  A football field is always 100 yards long, a baseball field (though the outfield dimensions can vary somewhat) is basically the same no matter where you play and a basketball court is like football – 94′ long and the baskets are 10′ high, always.  But golf is different that way.  Every course is unique.  Each course offers a different layout, different lengths, different hazards, fairway widths and green sizes.  And that's just the course itself.  Play in different areas of the country and the scenery/views are different, the wildlife on the course changes…it's a new experience at every different course.  So are you missing out on something by not playing a variety of different courses?  I think so.
I think of this because I'm friendly with a couple who play golf together.  But rather than get out and playing different courses and experiencing all of the different nuances of each one, they use websites such as Groupon, advertising specials at local courses.  Now I'm all for saving a few bucks and getting a good deal, but when those specials bring you to the same course three out of four times, I'm sorry but…you're missing out.  At that point, if you're looking for a deal and playing the same course that often, just become a member for crying out loud.
Again, I'm all for finding a good deal and package pricing, and I'll do that with other purchases.  But when it comes to golf, I've never even considered it.  I want to play where I want to play.  I don't drive a certain car because it was the best deal…I drive a car I want to drive.  I don't go on vacation to wherever the cheapest airline tickets are…I go where I want to go.  I don't play a specific golf course because of their "$48 for two people with a cart, after 1:00 pm on a Tuesday when there's a full moon and the wind is blowing northeast at over 7 miles per hour" special.  Instead, I play the course I want to play.  Now, if there happens to be a special at that course, then great!  But I'm not basing whether I play it or not on a special.
Am I looking at this wrong?  Maybe I should just be happy that two more people are playing this game who wouldn't be playing it otherwise.  But I more want to tell them "Yeah, I've played that course also…it ain't that great…you should try playing (fill in course name here) instead."  Would I be raining on their parade?  Or would I just be opening up their eyes to a new and better golfing experience?  Maybe we'll just see what comes out of my mouth the next time they mention it to me…
Swing 'til you're happy!