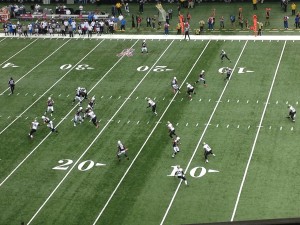 When it comes to this time of year, the golf off-season, sometimes I just don't know what the heck to discuss since golf is just not on the mind.  After all, I'm not out on the course, I'm not out on the range, and it's NFL playoff time…so I'm certainly not watching any golf on TV.  It's simply that time of year when I need a break from golf.  I don't really want to think about it.  But…that doesn't mean that something golf-related doesn't cross my mind on occasion.  No complete thoughts, just random parts of thoughts.  Things like…
…the golf "off-season" to which I was just referring.  There's not enough of one.  With this being "Wild card weekend" in the NFL, how many sports fans do you think were tuned into the Hyundai Tournament of Champions vs. NFL playoff games on Saturday and Sunday?  I mean really, what kind of television ratings were they hoping to get?  Just end the golf season before the NFL playoffs begin.  Want to try Super Bowl Sunday also?
This past weekend, we had a birthday party for my youngest.  She's not interested in golf, but my two boys are.  So I thought to myself, maybe having a party at the indoor golf range could be an option.  Do those places do things like that?  With one of their birthdays being in the winter, that seems like a good place to bring a small group of boys, right?  There's a small driving range, a putting green, the simulators which are basically giant video games.  Hmmm…something to consider over the next couple of months.
And speaking of the next couple of months and the indoor range, should I bother even going?  I don't seem to get any better by going, probably because I only go once or twice during the winter – not nearly enough to make an impact.  And quite honestly, the past few times I've gone haven't really been for practice.  It's been more just for fun.  But that's why I play, so what do I really care about…(insert your Allen Iverson reference)…practice?
See what happens when you have a golfer who's bored in the off-season?  You get the NFL, birthday parties and Allen Iverson.  Something tells me it was a bored golfer in the off-season who invented things like disc golf, FootGolf and half the betting games in existence.  But, I guess this is to be expected.  You know what they say about idle hands…
Swing 'til you're happy!