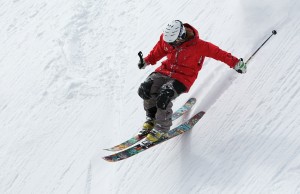 Have you ever wondered why some professional athletes have a clause in their contract that prevent them from participating in certain off-season activities?  For instance, some baseball players are not allowed to do things such as play a pickup basketball game.  I believe it was Roger Clemens who once had a clause in his contract stating he was not allowed to do the simple task of mowing his lawn.  But hey, when you're paying a guy over $10 million a year, the last thing you want is for him to get hurt doing something outside of playing the sport you're paying him to play.
Recently, I've penned a couple of posts about athletes from other sports taking up golf as a second sport, as well as golfers playing other sports.  But it's Miguel Angel Jimenez who may have put those arguments for the golfers to rest after his recent skiing accident.
If you haven't heard by now, a little over a week ago Jimenez broke his leg while skiing.  The result?  After surgery he'll be unable to play for at least three months and possibly as long as five.  Now, that may be a bit of a stretch as far as the multi-sport athlete argument, but you would have to imagine what's going through the minds of many GM's in the major sports right now.  That's one more clause that may have to be put into future contracts if it's not already in there – no skiing.
For a golfer to have such an injury, I don't think it will take much of a toll physically since the sport doesn't exactly demand much stress on the body.  For golfers it's more about the time away from the game and what it's going to do to your swing.  But for players in more physically demanding sports that include running and hitting, an injury like that could be either career-ending or certainly career-debilitating at least.  Think former Chicago Bull Jay Williams who violated his NBA contract by riding a motorcycle, and subsequently crashing it, thus ending his NBA career.
NASCAR star Jimmie Johnson may have a bit of experience with a golf injury, although his occurred when he fell from a golf cart.  Supposedly Johnson actually fell from the top of a moving cart, injuring his wrist in the process which caused him to miss a month of racing.  Of course, the PGA Tour doesn't use carts, and even if they did, something tells me they wouldn't let you ride on top of one.  But, I guess if you're going to act like a jackass, you get what's coming.
Now since PGA Tour golfers are, in effect, "independent contractors," there really isn't anything to stop them from pursuing another sport or taking part in any off-the-course activities.  So it's really a matter of risk of injury to themselves which would effectively take money out of their own pockets.  Jimenez could be out as long as five months.  If that's the case, that's five months worth of tournaments he'll miss out on.
With that mentality in mind, it's easy to see why golfers would not want to participate in other professional sports, but athletes from other sports may well consider golf as a second sport or one to consider upon retirement.  However, it seems one bit of advice might be to avoid skiing.
Swing 'til you're happy!