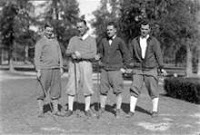 Do you have that same group of golfers that you tend to golf with all the time?  I guess alot of us do.  The same group of friends meeting at the course for their regular round.  It just becomes second nature.  You get to the point where you always know who's going to be there. 

My group is more like a threesome with the fourth being on somewhat of a rotation.  We check to see if one guy can join us, and if not we move on to the next guy. 

But now, it looks like there may be a bit of an interruption in our group.  It's starting to look like there may be some relocating going on.  It looks like the regular group could be no more.  So what to do?  Do we just replace 'em and forget 'em?  Of course not!  Instead, where there is loss there is opportunity. 

See, my regular golf buddies and I like to try to squeeze in a golf trip once a year.  But that doesn't always seem to happen.  Sometimes it's just hard to get all of us on the same schedule.  Between jobs, families, commitments and such, there's been several years where the trip just never came to fruition.  And recently, when we have gotten the opportunity, we've been relatively limited to a trip that was somewhat local.  But that could be coming to an end.

See, now that some golfing buddies may be moving to different locations around the country, I'm looking forward to some destination golf trips.  Obviously, I think we would start out with a trip to the new locations of our golfing buds.  But after that, who knows?  With our regular group now spread throughout the country, there's no excuse for not traveling to destinations that we didn't get to before.

Maybe we'd like to hit some of those fantastic Oregon courses that have been getting rave reviews for several years now.  Or maybe we'll choose to head to Alabama and take a trip around the Robert Trent Jones Golf Trail.  Maybe we'll finally make that trip to California for the iconic Pebble Beach trip.  Either way, the point being that when we're spread out, all of us meeting in a central location seems to make sense. 

So as much as I would miss the guys when they've gone to other parts of the country, I'd also find the silver lining.  That being the chance to travel to different locations and spend some time with the guys who I had gotten used to playing this great sport with.  And that's what it's all about, right?  Spending time with your friends, playing the sport you love.  If a bit of travel is required, then so be it.  It's well worth it.

Swing 'til you're happy!