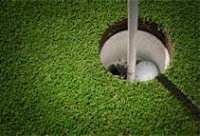 We've all hit that shot in a round that makes up for the misery of the rest of the day, right?  You're double and triple bogeying everything you do.  You're three and four-putting constantly.  In the trap all day.  But then it happens.
You're in a green-side bunker, on the wrong side of the green.  You're buried pretty good and you can barely see the green from your position.  But you stroke it perfectly and it rolls up and drops right in the cup.  Now, it no longer matters what your scorecard looks like at the end of the day.  All that matters now is that perfectly stroked ball out of the trap.  And that, my friend, is why you will be back on the course next weekend.
Sometimes, it's not a shot that will make you forget about only your terrible round.  It could be one that makes you forget your terrible all-around game!  For me, that shot came on my recent golf trip.  I hit an approach from about 70 yards out.  From my vantage point, I could only see the ball bounce once on the green.  But even though sight was lost, the sound of the ball hitting the pin could still be heard. 
Sure that I ricocheted off the pin to some unfavorable location, I began to search the rough for my ball when it was clearly no longer on the green.  It was then that Stinky Golfer Greg suggested to check the hole.  In my head, I begin laughing because the phrase "Do me a favor, check the hole" has been uttered countless times by Stinky Golfer Tom.  What's funny about it is, most times, we're all well-aware that the ball is not in the hole.  And in all the years I've been golfing with him, that question has never lead to us actually finding the ball in the hole!  But this time it was different.
One of our golfing buddies takes a walk over to the pin, looks down and exclaims "It's in the hole!" while raising his fist in the air.  It was almost as if he had hit the shot himself!  And that was it.  That was my shot.  The one that will keep me coming back to golf.  My first eagle, and it was recorded with my golfing buddies at one of my favorite courses.  After that, it didn't matter that I didn't break 100 that round.  It didn't matter that I recorded a 10 on another hole.  Hell no!  I got my first eagle! 
Even the next day, when we were out for another round of 18, that feeling was still there.  Once again, it didn't matter that I recorded a 10 on one hole for the second day in a row.  It also didn't matter, although it felt nice, that I played one of the better rounds I've ever played that day.  I was still riding that high from the day before.
But that's what a great golf shot will do for you.  That one shot gives me the will to want to go out there and take a beating again.  That one shot gives me something to chase the next time I head out to the links.  Well, I'd be out on the course anyway.  But its funny how that one shot can make the pain of every other one just disappear.  One great shot in exchange for 100 of my usual?  Sign me up!
Swing 'til you're happy!