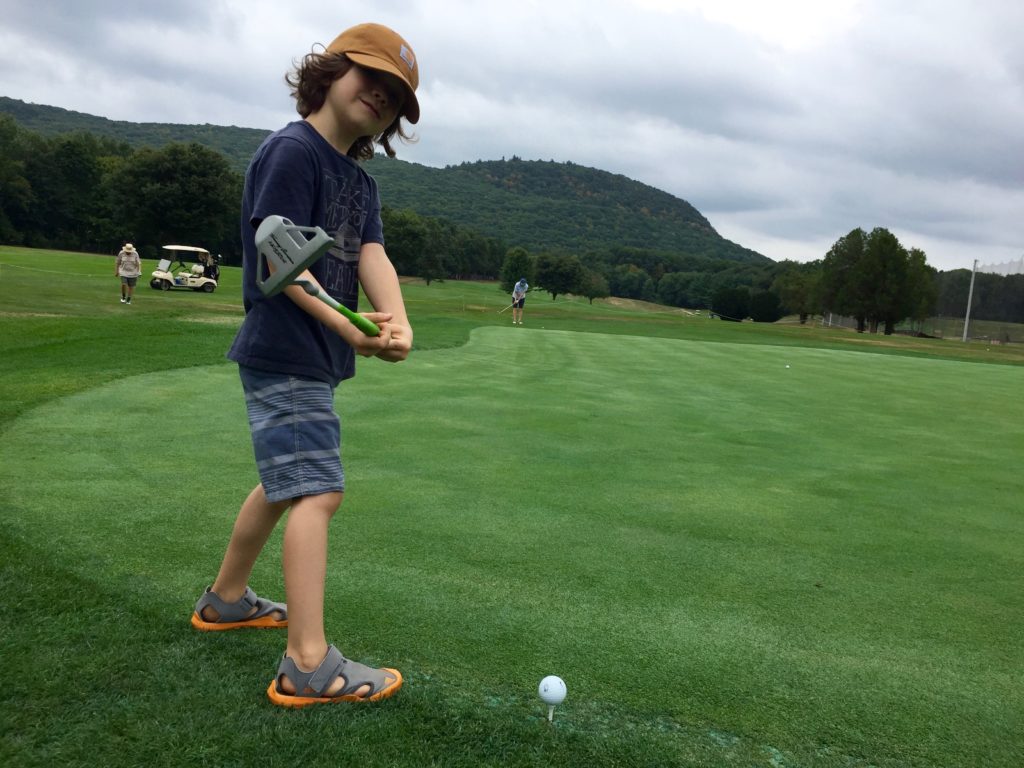 There is that age between understanding a game and being able to actually play said game that parents should not neglect. In golf, this is most likely children ages 4, 5 and 6 (and maybe 7). It's a time when kids can understand the game, but are not physically ready to hit the links.
So with that in mind, I'm not suggesting you let your 4-year-old play a round of golf with you. Instead, I suggest you bring your kindergartner along while you play a round of golf.
Now keep in mind, the notion of letting your child tag along during your round is somewhat controversial. After all, there are those who feel if you're not playing, you shouldn't be out on the course. And for the most part, they have a point. Allowing your kid, friend, spouse or other non-player (pet) tag-along with you on the golf course can be very distracting to other golfers. And in fact, some golf facilities don't allow non-players anywhere near the first tee at all. (See my "Things to Consider" section below).
Then there's also some folks who simply don't want to bring their child along. For many, golf is the escape from their everyday lives, not a continuation of it. And while I can understand that notion, taking your 4-, 5-, or 6-year-old to the course once in a while might be more important than you realize. Below are three such reasons:
Bonding with your child
This is a perfect opportunity to spend some quality time with your kid. Even just a 9-hole round that lasts 2 hours is a world of time for your kindergartner. He or she will not only appreciate this adventure, but remember the experience to boot.
Teaching them respect
Golf is a game of respect and to a child, there are simple signs they will pick-up on. Being quiet when someone is hitting; learning about who has honors; never stepping in someone's line. Through your kindergartner observing these practices (and by adding a simple explanation to each act of respect), you are encouraging respectful behavior both on and off the course. You might not think they are retaining much in that young brain of theirs, but they are definitely watching and learning.
Creating a future golfer
By exposing a child to golf at such a young age, you are sewing the seeds for a future golfer.  They may not all take-up the game immediately, but they will always be drawn to golf because of the experiences they had with their mom or dad out on the course. Sooner or later, you'll have a new golfer in the family. And not only does that mean plenty of family time out on the links, but a new golfer to eventually pass the game on to the next generation.
Things to Consider before bringing your child out on the golf course:
For starters, always ask the course beforehand to make sure it's permitted.
Try to go when the course will be fairly empty (late afternoon on the weekend or mid-day during the week).
Try to play 9 holes instead of 18 to appease their short attention-span.
Take a cart instead of walking. They'll love riding in it so you won't have to worry about chasing them around the course!
Never leave them alone in the cart! My son once tapped the gas pedal lightly, which unlocked the break and started him rolling backwards down an incline! Fortunately his uncle was right there and was able to jump in and stop the cart!
Ask the course to let you play solo (having a kid along might be a distraction to other golfers you're paired up with).
Prepare to answer a ton of questions about "why" you do this or "why" you do that.
They will inevitably want to hit a few shots. Avoid having them hit off the tee or the fairway. Instead, bring along a putter his or her size and let them take a few putts after you finish each hole (always being aware to not hold up any groups behind you).
Finally, try not to express any negative emotion out there. You want your child to think of golf as a game that's fun, not frustrating.
I've taken my son out with me on two occasions thus far – once last year when he was 4 and once this year when he was 5 and both times, he thoroughly enjoyed the experience. This year, he got to hit some balls on the range and he had fun keeping score after each hole.
Bottom line: Though my son is still a few years away from playing a round alongside of me, he will be that much more prepared (and interested) once the time comes.