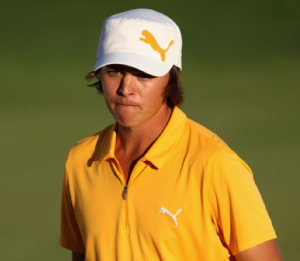 So your peers think you're overrated.  Does that matter?  What does it even mean?  And what do you care anyway?  Well everyone has seen by now, in an anonymous poll by Sports Illustrated, pro golfers voted Ricky Fowler and Ian Poulter the most overrated players on the tour.
This makes me curious.  What do you think Fowler and Poulter think of this?  Do you think it upsets them?  Do you think it angers them?  Do you think they use it as motivation?  Or do you think they just don't pay attention?  I guess it depends from what angle you look at it.
If it were me, I would probably say that I didn't pay attention, all the while knowing full well that I did.  And while I don't know that it would necessarily anger me, it would frustrate me to some extent knowing that I'm working my butt off to be a good player, only for some other golfers to think I'm perceived to be better than I actually am.
From the standpoint of all the golfers on the tour who were polled, how seriously do they take this?  It's not like this makes a bit of difference to them.  It has no real affect on the game, the tour or the sport itself other than to stir up a little conversation and maybe controversy.  But, now that I think about it, maybe that couldn't hurt.
I guess these polls are really done for the fans though.  It does give them something to talk about, right?  And maybe even agree with.  Now I don't follow the tour all that closely, but I have to say…I do see an awful lot of Rickie Fowler in promos and commercials considering, up until last week (nice way to respond by the way), he's only won on the pro tour once, and that was back in 2012.  And by the way, one win does not necessarily exonerate you though.  It's like a pro baseball player being mired in a 4 for 42 slump.  Just because he goes 3 for 4 the next game doesn't mean he's snapped out of it.  He's still 7 for his last 46.
So I guess you just take these polls for what they're worth, which is not all that much.  Are they fun to read?  Sure.  Create good conversation?  Yup.  Maybe somehow keep Rickie Fowler from turning into golf's version of Anna Kournikova?  Now we're talkin'…