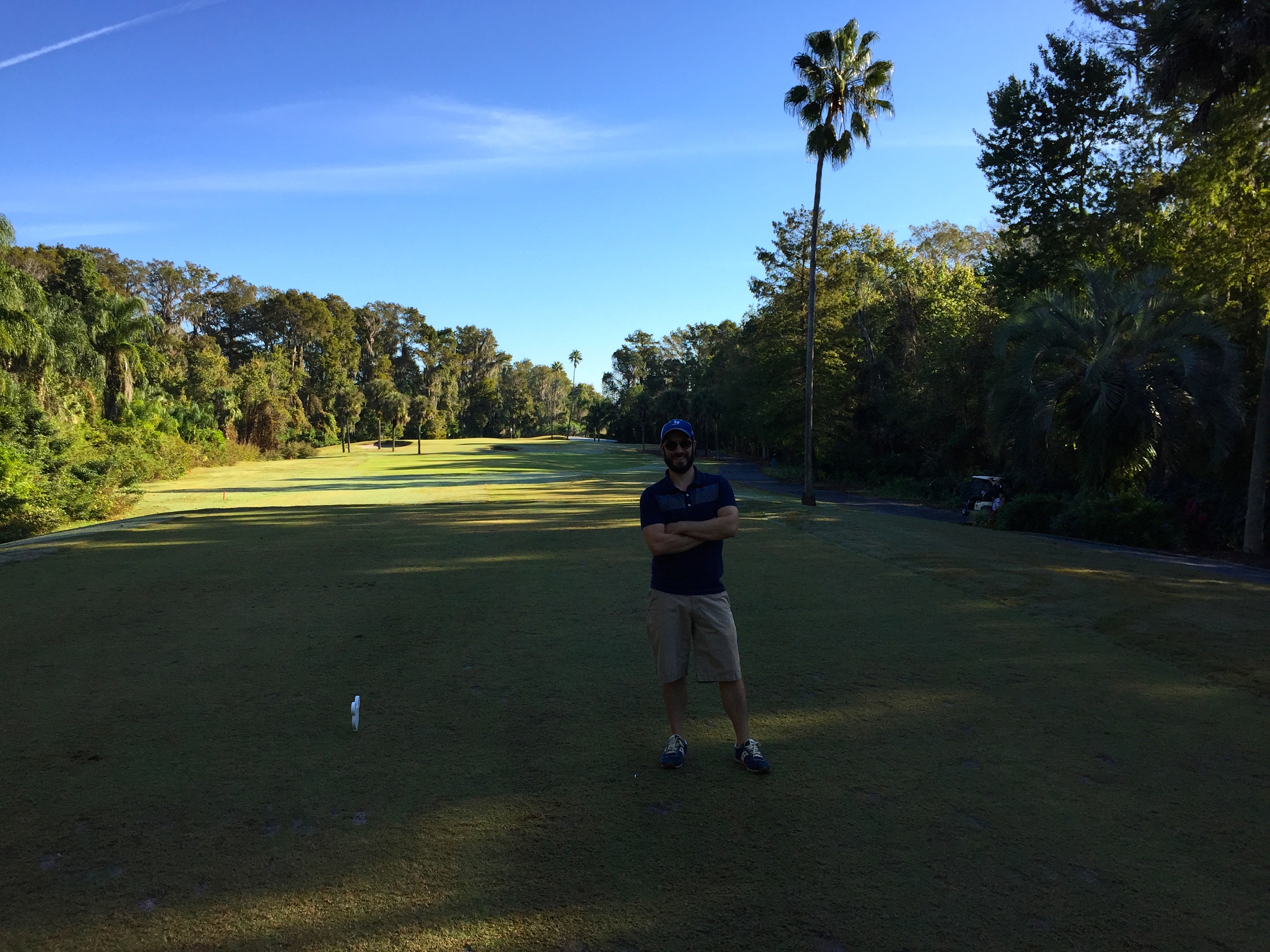 You've planned for months; figured out all the logistics; got the flights, hotel and transportation squared-away; and prepped the kids. You've even spent time booking fast passes for all the best rides ahead of time. Walt Disney World, here you come!
Now just one thing remains in the back of your mind – should you try and play golf while you're there? I mean, you might be able to sneak-out early one morning and squeeze in a round. But would it be worth the effort? After all, there's a few championship courses right in Disney. You could tee-off around 7 or 8 and be meeting-up with the rest of the family for lunch in the Magic Kingdom by noon.
Well, about a week and a half ago, I did just that. My wife and I plus the two kids were in Orlando on a 4-day trip to Walt Disney World. And, being that the golf season was pretty much over up here in the northeast, I decided to play golf one of the mornings down in balmy Florida (not to mention the Disney World courses looked pretty good on the website).
After looking over all the options, I decided to play Disney's Palm Golf Course – mainly because it was just remodeled last year. In addition, it's operated by Arnold Palmer Golf Management and received a 4-star rating by Golf Digest. Plus greens fees are the same at all the courses – $100 (which includes a cart). Of course having to pack all the gear for the kiddies meant it was too much of a hassle to drag my clubs along too…so, I had to rent at the course, which added another $50 to my fees. So I knew going in this would be at least a $150 investment.
With an 8:04 tee-time, I planned to meet my family around noon at the Magic Kingdom. I arrived at the clubhouse (which serves for both the Palm and Magnolia courses) around 7:30 on a very chilly morning (around 48 degrees) – so much for that balmy Florida weather! The staff was very friendly (was even greeted with the line; "Welcome to the happiest place on earth…for golf") and they let me head out to the first tee about 20 minutes early.
Surprisingly, they didn't pair me up with anyone, which, when I made my reservations, they said would most assuredly happen. Nevertheless, I teed-off and headed out on my own. By the third, I had caught up with the gent ahead of me (also alone) and we paired up. Our twosome turned to a threesome a couple holes later when yet another single caught up to us. The three of us played the rest of the round together (albeit each with our own cart) and we rarely saw another soul out there (save for the ranger and MOFOBETE a couple of times each).
The course was well-maintained and the greens lightning fast. It wasn't as green as in the photos online, but I didn't mind at all. There were some pretty holes but nothing amazingly beautiful. And overall, the course was fairly difficult (I played the "white" forward tees and still lost at least two sleeves of balls)! I ended up with a 99 for 18, which is about 6 strokes above my average.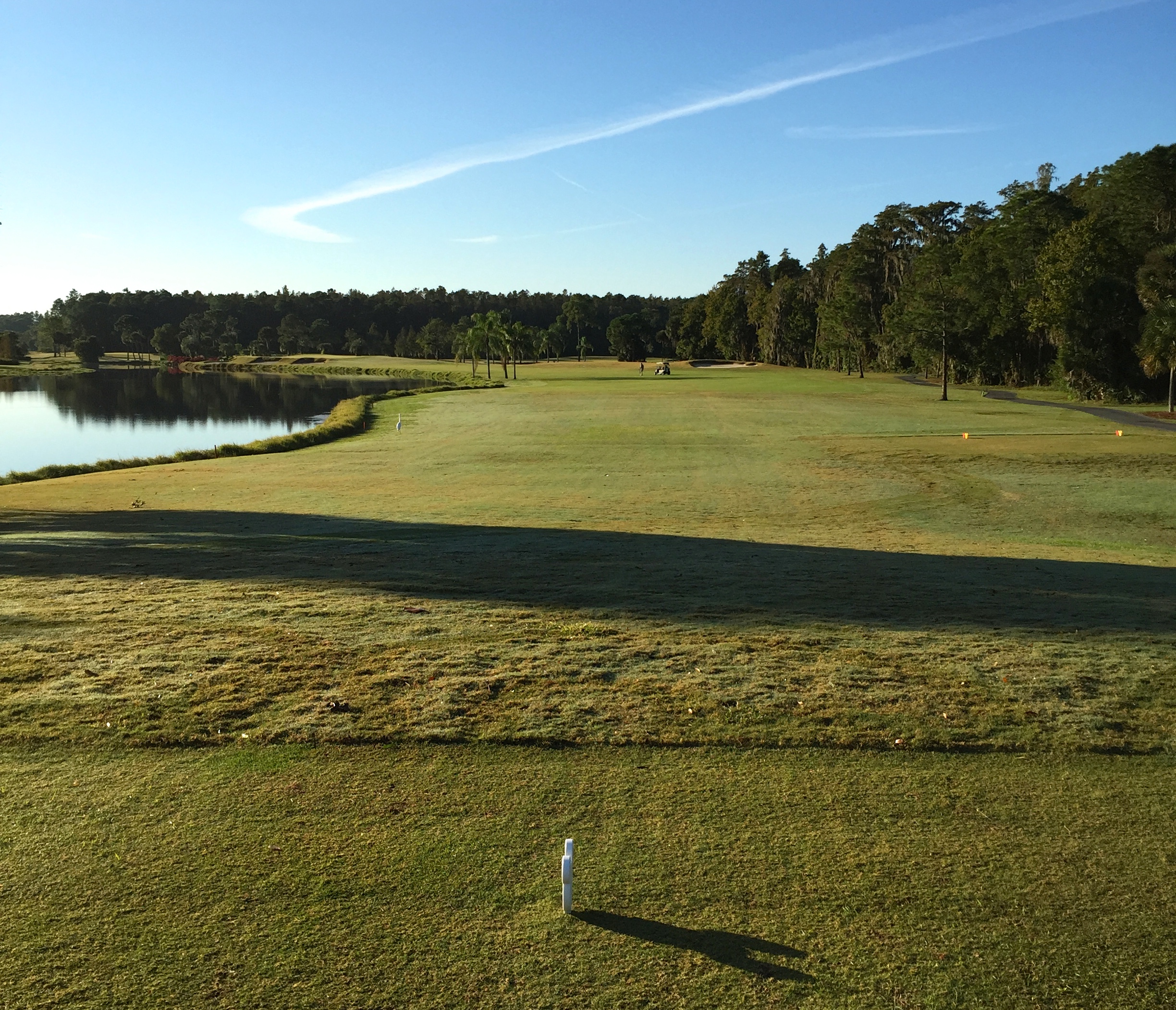 When we walked off the 18th green, I couldn't believe the time on my phone: 10:50! With each of us in our own cart, we flew through the round in less than 3 hours. As such, I was able to catch up with my family well before lunch, which was nice.
So, was it worth it?
I'm not so sure about the two guys I ended up playing with. One was retired and was down there with his kids and grand kids. They threw gramps a bone and let him play golf for the morning, but he wasn't wowed by the course (he told me as we were waiting for our transportation to take us back to our respective hotels that he gave the Palm a 3.5 out of 5 stars – and I agreed).
The other guy had been at Disney for nearly two weeks – he mentioned during the round that he told his wife if they (including his kids) were going to be there more than a week, he was going to play at least one round of golf. And there he was – playing his one round (in less than 3 hours to boot – not sure it was the escape he was hoping for).
As for me? Let's just say I'm glad I played, but I probably wouldn't play the Palm again. If I'm back down there in a few years (and I have time to squeeze-in a round), perhaps I'd consider playing one of the other two 18-hole courses at Disney World (Lake Buena Vista or Magnolia). Or perhaps when my kids are a bit older and if they like golf, we could all play the 9-holer there (Oak Trail).
Bottom line: If you're visiting Walt Disney World soon and struggling to decide if you should work-in a round of golf or not, my advice is to spend your time (and money) with the family at one of the parks instead – I enjoyed myself far more at Epcot, Hollywood Studios and the Magic Kingdom than I did on the course.