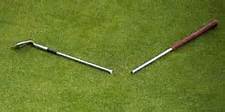 There once was a point when I thought the phrase "You get what you pay for" was true.  For a while, I thought just because something was more expensive, it must be better.  Well, all these years later, I now know better.  Sometimes the phrase does hold true.  However, it seems more often it doesn't.  And now that I've had the experience over the years in golf, I'm going to say that this especially holds true in golf.
I probably don't need to even mention the courses themselves.  How many times have you dropped $60 or so, only to find that the $35 course you played two weeks ago blew it away?  Happens all the time friends.  So, if I may plug ourselves here – that's why we can all help each other out by signing up for a free Golfstinks account and posting some reviews of the courses you play.  Help out the next guy before he wastes his money.
But the courses themselves are not really the concern for me.  My concern today is more along the lines of the golf equipment we use.  Many of us pay more for certain equipment because we expect we're getting something superior.  I've fallen victim to the game myself.  Let me give you three specific examples.  I'll start by saying that I will not name the brand, however I will say that all three examples were from the same maker.
I'll start with a simple golf umbrella.  Normally, I won't play in the rain, which makes this even more stupid on my end.  But, I paid a little more to get the brand name rather than settle for a "lesser" brand anyway.  However, upon the second use…it ripped.  You know, it's not like I was playing in gale-force winds or hurricane conditions.  So two uses?  I have since purchased a lesser brand and have had no issues.
Moving on to something more important…my golf shoes.  The tough part about buying a pair of shoes, not just golf shoes, is simply that you never really know until you try them for an extended period of time.  I can put them on and walk around the store for a bit.  But until I'm out walking the course…who knows?  So once again, I went with the bigger name.  Horrible mistake.  The first time I got these shoes out on the course, my feet hurt by the 11th hole.  And by the time I hit 16, I was ready to finish up the round barefoot.  Once again, I dumped one pair, spent $20 less on the next at the advice of the guy who worked at the store, and was satisfied.  I bought the same brand the next time.
But most importantly, obviously, is the golf clubs themselves.  For roughly the first twelve years of my golfing life, I played with the same inexpensive, off-the-shelf clubs I purchased from Sports Authority.  After I was done with them, I passed them along to one of my kids who is currently using them until he decides he wants to play more often and will then purchase a "better" set.  But my issue was, as much as I didn't want to go ahead with the purchase of that same brand, I was encouraged by the pro who fitted me, plus, the price was just too good to beat.  All was good until just a couple of weeks ago.  Now, I'm down a club.  Hitting my approach shot on the final hole, I watched my ball sail beautifully toward the pin, but the head of my pitching wedge sailing about 15-20 yards out was more important at the time.  Yup, the head of the club snapped clean off the shaft.  Needless to say, I have now decided that I am done with this brand.
So what I'm saying is, shop around, do your research and ask questions before spending your money on anything. Just because the product comes from a big name doesn't necessarily make it better.  Yeah, you get what you pay for…except when you don't.
Swing 'til you're happy!