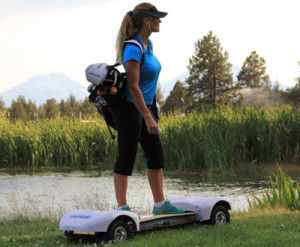 Tony Hawk eat your heart out. Man, these are cool! Normally, when it comes to golf gadgets and such, we have a tendency to make light of the situation. In this case however…I want a Golfboard! Recently, in an interview with one of Golfboard's co-founders, Paul Hodge made a great comment that just resonates:
"If you really want the industry to grow, and to be accepted by the mass market, you need to kill that stodgy conservative attitude… and you need to make it fun… and attract the younger crowds," he said.

"Forward-thinking people in the golf industry right now realize you can't focus on what was the game like 100 years ago. You need to focus on, what's the game going to be like in the future?"
He couldn't have said it any better. This just about hit's our philosophy right on the head. Unfortunately, I haven't had the opportunity to cruise around on one nor do I have the $3500 to buy one but if they are reading this and want to send us a late Christmas present by all means feel free!
I was very curious about the specs and performance and apparently it does not disappoint. The Golfboard coasts at about the same speed a regular golf cart, 11 MPH I believe. Sits on 9″ tires that are 3.5″ wide and can carry in excess of 250 pounds which is perfect for my fat ass. Another bonus is they can easily go 18+ holes on a charge and best of all – made in the USA! Now, about that $3500…
Hit'em long…yell FORE!!!