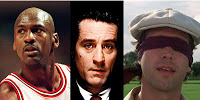 One of the things we like to know about the members of Golfstinks is; Who you would have in your dream foursome? If you had the chance to assemble three other golfers (or non-golfers…we don't judge)  who would you choose? This is something that could change every so often or not at all. This took some time to compile but I think I got a good group…for now.
#1 Michael Jordan. What else do I need to say? A fierce competitor, a great golfer and most importantly – he takes chances. Mike's a gambler (literally) and is not afraid to throw-down a few grand on a shot. I admire his fearlessness. Don't get me wrong, I couldn't afford one hole with this guy but I'd like to see it go down.
#2 Robert De Niro. Fuhgettaboutit. I have no idea if he really likes golf but I want him in the foursome. There are two reasons why. A) When I mess up a shot it would be funny to hear him say "You screwed up just a little bit, just a little bit." And B) When he screws up a shot, it'll be the absolute best to see him go Jimmy "The Gent" Conway on his clubs.
#3 Chevy Chase. Yes, I love Caddyshack. Yes, Ty Webb was a great character and yes, I do want to hear lines from the movie. Come on, who wouldn't? If Ted Knight was still alive he might have made the cut as well. Just remember to be the ball and stay out of the lumberyard…
So, who's in your foursome?
Hit'em long…yell FORE!!!